100 Days to 100K With Jeff Cook Real Estate
Posted by Lauren Brown on Monday, January 4, 2021 at 8:02 AM
By Lauren Brown / January 4, 2021
Comment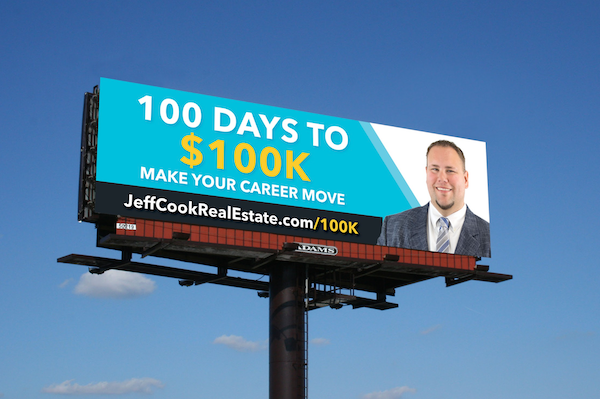 Becoming a Jeff Cook Real Estate agent means that you'll receive access to our tried and true tools, systems, and accountability from managers and mentors through our 100 Days to 100K Training Program. Our leadership team knows the ins and outs of what it takes to be successful in the real estate industry and is ready to share the secrets with YOU!
Tools
Upon joining Jeff Cook Real Estate as an agent you'll immediately begin your journey to making 6 figures on DAY 1. All new agents begin by being immersed in a 21-Day Fast Track Training Program and have the opportunity to build upon the foundation of their real estate education by learning how to communicate effectively with clients, write contracts, host open houses, and more. Whether you're an experienced sales professional looking to make the switch to real estate or a brand new agent, you'll have access to expert training all while building a successful set of real estate skills that will set you up to make $100k within your first full year! One of our newest tools is called the Volume Breakdown Analysis. This tool allows you to input the volume you desire to make and reveals what you need to accomplish to reach your financial goal! This tool coupled with our Success Tracker allows for mentors and managers to see you successfully reach six figures in your first year at Jeff Cook Real Estate.
Systems
Jeff Cook Real Estate agents who choose to opt into the 100 Days to 100K Program receive exclusive access to our very own teaching guide for agents! This includes fundamental knowledge for a real estate expert and the basic how-to's such as how to time block their daily schedules and learn step-by-step how to make each day a productive one that results in future commission. From calling leads to touring new neighborhoods in the area, there are always ways to enhance and improve your real estate skills. During the course of this intensive 100 Day Training Program, each agent will have practiced writing a minimum of 30+ contracts, previewed 20+ properties, held 6 open houses, toured 25+ existing communities and 6 new construction communities ultimately designed to lead to a six-figure income with Jeff Cook Real Estate.
Accountability
Quite possibly the most unique part of becoming a Jeff Cook Real Estate agent is the supportive culture that we've cultivated. Each sales office is headed up by managers and mentors who are trained to hold agents accountable and push you to realize your full potential in real estate. As a new agent, you won't have to worry about falling behind because of a lack of direction and support. Our leadership team, including our Broker-in-Charge, is easily accessible and available for questions and resources. We designed our brokerage so that the leadership is only successful if the agents they lead are successful. Each person really is dedicated to your success because their own success depends upon it!
This program is designed to help you build strong habits over the first 100 days with Jeff Cook Real Estate, and by continuing these habits for the entire year, you will have mastered how to earn at least 100K in your first year of real estate.
We know how to tell if you have what it takes to be successful in real estate. Sign up today to get on the pathway to a 6 figure career at www.jeffcookrealestate.com/100k/