5 DIY Projects to Tackle This Weekend
Posted by Thomas "Jeff" Cook on Thursday, February 6, 2020 at 12:58 PM
By Thomas "Jeff" Cook / February 6, 2020
Comment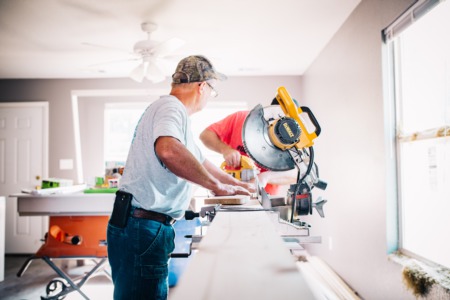 Weekends don't exactly need to be spent on the sofa enjoying your TV time and eating your favorite snacks. They are also a great time to ensure that you can indulge in some exciting DIY projects that can benefit your home and increase its value should the time to sell come soon enough.
A Little Paint Goes a Long Way
It's a proven fact that beauty is in the eye of the beholder, but when it comes to old paint, the opinion may just be unanimous. Your house will be valued by a prospective buyer by the way it looks, so if the initial impression is of an old and neglected exterior and interior, then your price range will also reflect that fact.
If you invest some time laying paint in areas in need - even if just a small bathroom or a room - it will give a positive and lasting impression to its next owner and one that you can surely capitalize on.
Get Rid of the Excess
You know you have things that don't exactly look great in your home - we all do! They are there to be useful and provide enough storage space, but ultimately, they will not look appealing to a prospective buyer. By getting your house neat and clean from excess clutter, you're not only doing a favor to yourself turning your living space into something more enjoyable straight away, but you're also increasing its value when the first visitor comes through the door.
Gardening Done Right
Have a look at a neglective neighbor's garden. Perhaps he doesn't have the time or doesn't really care about his garden - ultimately, perhaps you don't have much time either - but when you look at a house for the first time, that first impression is always a lasting one. A poorly attended garden will have a negative impact on your house's value as opposed to getting it all sorted out and clear from weeds and clutter before the first visitor comes around.
Upgrades That Are Worth It
You know that old sink you have in the bathroom? It won't take long to replace nor will it cost a fortune. If you pick your options right, you can make small upgrades for a couple of hundred dollars that will value your house on the thousands. We're not suggesting you should go ahead and spend huge sums to upgrade it with the very best materials, but always approach each room as if it was the first time you were entering it.
With that in mind, you may find little things that could look and work better throughout your home that will increase your own enjoyment of the space whilst you're living there as well as its value.
High-Tech Your Home
Again, you won't need to go ahead and bring the latest innovations indoors, but there are some affordable pieces of technology that impress buyers and make wonders for your home. Whether you're opting for smart thermostats or smart lighting, younger and more tech-savvy buyers will be impressed by those small improvements. They should only set you back a few hundred dollars and you're benefiting from them as well as far as you're living in the house.
These small upgrades can be done in a weekend's time and they will not only do wonders for your home's value but also for your sense of achievement, along with your own enjoyment whilst living in the premises surrounded by improved living space.
These projects can be carried out by yourself and are easily achievable, offering enough diversity and increasing any home's attractability to prospective buyers.