A Guide to Moving with Pets
Posted by Thomas "Jeff" Cook on Wednesday, December 4, 2019 at 12:50 PM
By Thomas "Jeff" Cook / December 4, 2019
Comment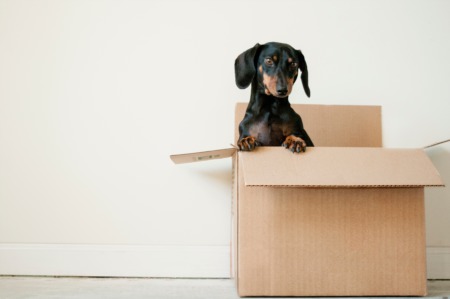 The physical aspect of moving your pets into your new home is fairly simple. You pack up their stuff, put them in the car, and take them to your new house. The tricky part isn't so much the actual move, but the new place and environment you are introducing your pet to.
Recently, I purchased my first house with my significant other. Together we have two dogs, one which is 3 years old and the other a 10 month old. We have had the privilege of slowly moving into our new home and have brought them over multiple times to get accustomed to the new environment. For those who can't slowly introduce their pets to the home, there are still other things you can do upon moving in.
Walks (dogs, obviously)
Having to haul furniture and boxes then unpack it all while comforting a nervous or spastic pet is never fun. If you are able to visit the house and neighborhood prior to moving in, taking leisurely walks are a great idea. The more they see the new places they'll go potty and play, the more comfortable they'll be when you move in. If there are other dogs in your new neighborhood, visiting is a great way to introduce them! That also gives you a chance to meet your neighbors and make some friends. If you can't make visits, taking 30 minutes or so for a walk before you unload the moving van is also a big help. This can help calm them while you unpack the day of move-in.
Explore the Home Together
Allowing time to supervise their exploration of the new home is crucial as well. You want to make sure they learn the spaces they can go, where the doors are they need to stand by for potty time, and for you to see if anything makes them anxious. Our new home has beautiful plantation windows and both our pups like to look out the windows which means death to all blinds or barriers. Watching them and correcting their jumping behavior at the windows from the first moment was extremely important for them to learn that the rules here are a bit different. We also have hardwood floor which our one dog is not a fan of. Reassuring him that he could walk helped him calm down, especially since he is a bit skittish in general. Dogs especially like to mark their territory in new places. If you are watching them explore all the new rooms of the home you can catch them before they mark.
Move-In Day
So you're all packed up and ready to move in! During the unloading process, it is near impossible to keep an eye on your pet. Finding a daycare center for pets, family, or friends to care for them is best for your furry friend. Especially for pets who are still learning their manners. If you have a space in your new home that your pet feels comfortable in to hang out that you can secure them in, then there's no reason they can't be a part of the experience! Unloading and unpacking can get stressful, so a dog barking nonstop doesn't really help calm the nerves. Plan ahead to make the best choice for you and your pet on move-in day.
Patience is Key
The most important part about moving anywhere with a pet is having patience. You are taking them out of their comfort zone into a brand new home and environment. Expect a few accidents, confusion, maybe some abnormal destruction, even appetite change. While you may have been planning this move for months, their little animal lives are being turned upside down in just one day. Give them lots of love and patience while they get to know their new furever home!