Jeff Cook Real Estate Is Expanding Further In South Carolina
Posted by Cory Towler on Thursday, August 15, 2019 at 1:45 PM
By Cory Towler / August 15, 2019
Comment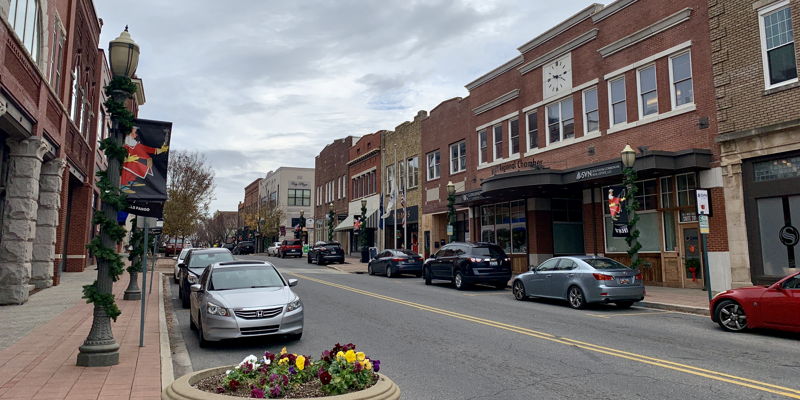 Jeff Cook Real Estate is excited about their recent expansion to Rock Hill, S.C. They are bringing their real estate expertise, their proven marketing systems and their innovative approach to real estate sales to the growing market in the Rock Hill area.
Their new Rock Hill office, in the former Citizen Bank Building on the corner of East Main and Caldwell Streets, is under construction and will open sometime in the fall. In the meantime, the team is busy working out of a temporary office.
David Carter, a native of Rock Hill and an experienced real estate broker is the General Manager of the new office. He spent his early childhood in Rock Hill and is happy to have returned home with his wife and three children. David met his wife while they were both attending Clemson. He first joined the Jeff Cook Team in Charleston and enjoys the positive workplace culture while serving families with integrity and excellence.
Jeff Cook Real Estate was recently ranked the #10 Top Real Estate Team in the nation and the #1 team in South Carolina. Additionally, they were named a Top Workplace in South Carolina. If you are an exceptional salesperson looking for an industry that will provide you with an opportunity for great income potential, please consider joining their team. They can also assist you in getting your real estate license and have a proven training system for new and experienced agents. The new sales office is not open yet, but already has over 1000 leads in their database!
Jeff Cook Real Estate's client base has been requesting them to open an office in Rock Hill because of the increasing popularity and growth the area is experiencing. Rock Hill and the surrounding areas provide a wide range of housing options in downtown neighborhoods, lakeside communities or rural settings. The cost of living ranks as one of the lowest in the Southeast. The plentiful shopping, dining, entertainment, sports facilities, and medical options make Rock Hill an ideal location. Also, Charlotte is a short 20-mile commute up I-77. If you are looking to purchase or sell a home in the area or considering relocation to Rock Hill, please reach out to the Jeff Cook Team. They will listen to you and find a housing situation that fits your needs and wants.
You can meet Jeff Cook or get in touch with our expert team at 803-836-8736 or go to JeffCookRealEstate.com.