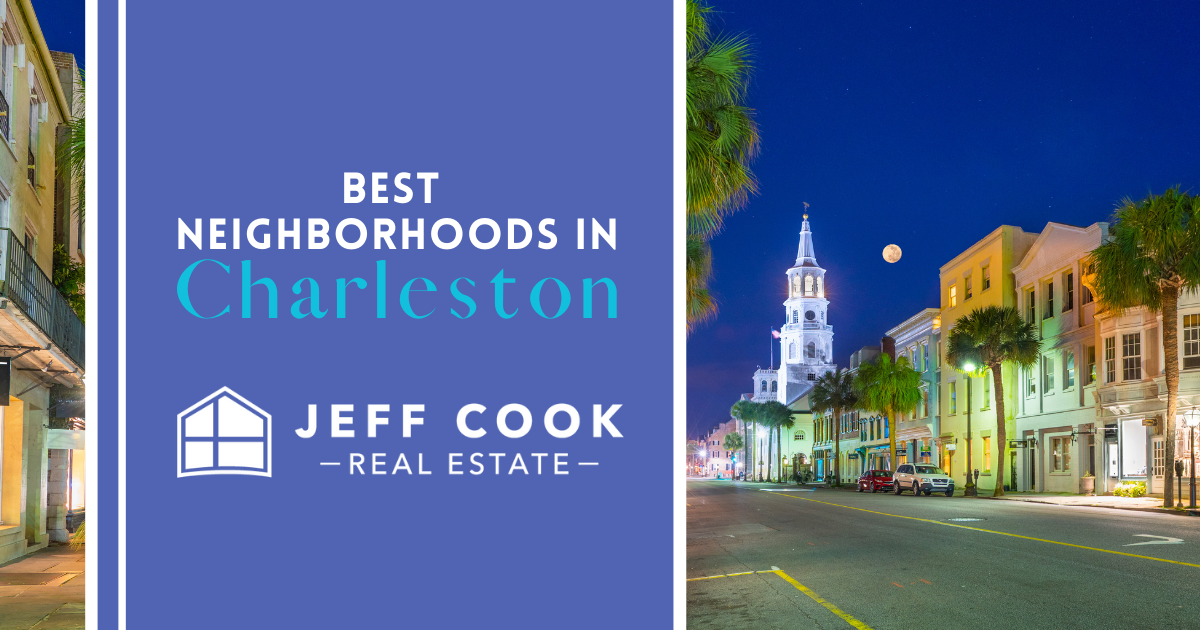 Best Neighborhoods in Charleston: Charleston, NC Community Living Guide
Charleston is known for its Southern charm, beautiful historic buildings, and delicious cuisine. Every year, more than 7 million visitors flock to this city, and Charleston has even been voted the best city in the United States by the readers of Travel & Leisure for eight straight years.
Charleston has also become a very popular place to settle down. According to the Charleston Regional Development Alliance, this city's population is growing three times faster than the United States average. Many are finding homes in the following best Charleston neighborhoods.
Downtown
Downtown Amenities
Walkability score of 85
Restaurants, bars, and shopping
Unique architecture
There is so much to love about downtown Charleston. For starters, this neighborhood—which is also sometimes referred to as The Peninsula—has a walkability score of 85, which is second only to New York City.
Downtown is a compact area, only about four to five square miles in size. But residents strolling through downtown Charlestown will find numerous eateries, lively bars, and retail outlets.
The downtown area is also rich in history. Because Charlestown was the first English settlement located south of Virginia, it is home to many historic sites and structures, including the largest concentration of Pre-Revolutionary houses in the U.S.
The architecture in this neighborhood is an interesting mix of styles and includes Neoclassical and Greek Revival. For those searching for something more modern, this neighborhood also offers some renovated carriage homes, new condos and townhomes, and even a sprinkling of new single-family houses. Because housing is limited in the downtown area, demand is usually very high.
Riverland Terrace
Riverland Terrace Amenities
Riverland Terrace is one of the oldest planned communities on James Island. Most of the approximately 800 homes in Riverland Terrace were built in the 1940s and the 1950s, and they range in size between 800 and 4,500 square feet. There are also some newer homes mixed into Riverland Terrace. For the most part, the style of homes in this neighborhood include Colonial Revival, ranches, and Cape Cod-style cottages.
Because this neighborhood is well-established, it does boast mature trees, including the 100-year-old, moss-draped live oak trees that line the drive leading into Riverland Terrace. This is a very walkable neighborhood and is an excellent location for anyone who wants to be within easy driving distance of downtown Charleston.
Water lovers will enjoy living in Riverland Terrace. It is just a short cruise to Folly Beach, and the community also has a deep-water dock and boat ramp for boaters who want to access the Intracoastal Waterway.
Riverland Terrace Hotspots
Riverland Terrace Shopping
Riverland Terrace Nightlife
Riverland Terrace Restaurants
Wagener Terrace
Wagener Terrace Amenities
Ashley River
Corrine Jones Playground
Plymouth Park
Situated along the Ashley River and north of The Citadel, Wagener Terrace is a special neighborhood that offers homeowners the best of both worlds: a peaceful setting while still being within easy biking distance to the amenities of downtown Charleston.
The original cottages and craftsman-style bungalows in Wagener Terrace were built between the 1920s and the 1940s. This gives Wagener Terrace a charming, classic neighborhood feel. As for the interiors of these homes, many have been thoroughly renovated and updated. There are also a few new luxury developments in Wagener Terrace.
Wagener Terrace Hotspots
Wagener Terrace Shopping
Wagener Terrace Nightlife
Wagener Terrace Restaurants
Harleston Village
Harleston Village Amenities
Charleston Library Society
Colonial Lake Park
Cannon Park
Dog park
Moultrie Park
This highly sought-after neighborhood is located just outside the more touristy areas of downtown Charleston, but is still within walking and biking distance to King Street's retail shops and restaurants. However, Harleston Village, which is also sometimes called Harleston Green, has plenty of its own charming stores and eateries to offer its residents and visitors.
This neighborhood is bordered by the Charleston Harbor to its west, King Street to the east, Calhoun Street on the north, and Broad to the south. Developed in 1770, Harleston Village is one of Charleston's oldest and largest neighborhoods. It is named after John Harleston, who, during the late 1600s, owned the land on which this neighborhood is located.
Today, prospective buyers looking for a house in this neighborhood can find an interesting and eclectic mix of properties. Harleston Village also has several lovely parks and is graced with the presence of beautiful Colonial Lake.
Harleston Village Hotspots
South of Broad
South of Broad Amenities
Calhoun Mansion
The Battery
White Point Gardens
South of Broad is one of Charleston's best-known and prestigious neighborhoods. Not only is there a book by best-selling author Pat Conroy named after this community, the area is also one of the most photographed, thanks to the Rainbow Row. This eye-catching series of 13 pastel-colored townhomes is the longest cluster of Georgian row houses in the U.S.
In addition to these row houses, prospective buyers will also find homes in a variety of architectural styles, including Victorian, Colonial, and Art Deco. Townhomes and apartments carved out of former mansions are also available in the South of Broad neighborhood.
As its name suggests, this charming neighborhood is located south of Broad Street and is also bordered by the Cooper River on the north and Ashley River on the south.
South of Broad Hotspots
South of Broad Shopping
South of Broad Cafés
South of Broad Restaurants
Elliotborough
Elliotborough Amenities
Elliotborough Park and Community Garden
Medical University of South Carolina
Although this area is now mostly known as Elliotborough, it was at one time two separate boroughs: Cannonborough and Elliotborough. There is a bit of a debate as to the exact borders of this neighborhood. However, it has been defined that Elliotborough is bounded by Crosstown to the north, Morris Street on its south, President Street to the east, and King Street on its west side. Because this neighborhood is the first one that visitors enter after crossing over the Ashley River, Elliotborough is sometimes referred to as "The Gateway to the Peninsula."
Elliotborough was once home to a War of 1812 fortification and is named for Colonel Barnard Elliot, who was a member of the First Provincial Congress of South Carolina.
Buyers looking for homes in this area will find an interesting blend of properties, including single-family and multi-family homes, classic row houses, and new condos. Additionally, Elliotborough is an area where prospective homeowners can still find fixer-uppers to renovate and refresh.
The French Quarter
The French Quarter Amenities
Waterfront Park
Pink House Tavern
Artsy and charming, the French Quarter is a small neighborhood with cobblestone streets that lies inside the original old walled city. It is situated between the Cooper River on the east and Meeting Street on the west. Its northern border is Market Street, and its southern border is Broad Street. The area became known as the French Quarter in 1973, when it was added to the National Register of Historic Places.
Today, the French Quarter is home to many significant, historic, and interesting sites. For example, its Dock Street theater is believed to be the first theater in the United States. Extensively renovated, the Dock Street Theater is still in use today.
The French Quarter is also known for its numerous art galleries and charming cobblestone streets. Prospective homeowners interested in settling down in this neighborhood can choose from gorgeous Georgian homes, riverfront residences, historic row houses, and condos.
The French Quarter Hotspots
Choosing the Best Neighborhood in Charleston
The secret is out: Charleston is a remarkable city. Not surprisingly, Charleston homes are in high demand. Therefore, it is important that buyers interested in moving to Charleston determine which of these neighborhoods would work best for their lifestyle by exploring their options and visiting these communities.