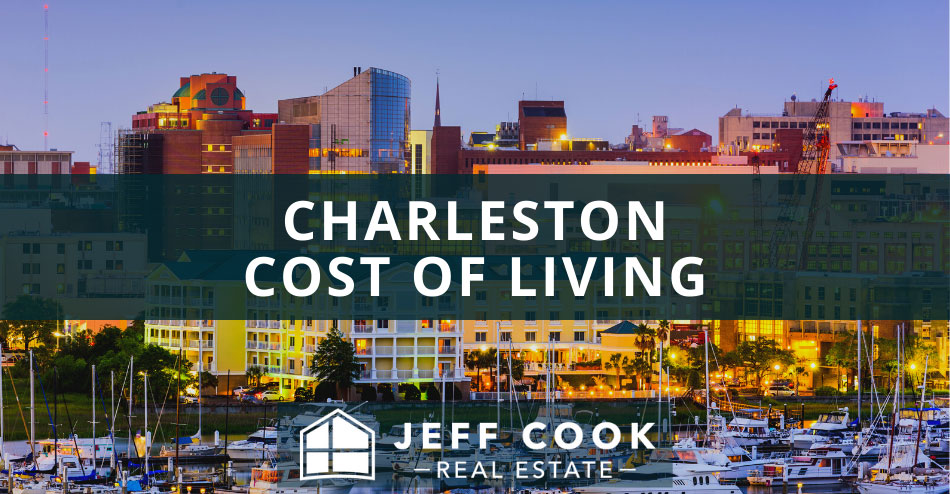 How Much Does it Cost to Live in Charleston?
Charleston is approximately midpoint along the South Carolina coastline on what is known as Charleston Harbor, an inlet of the Atlantic Ocean. Although the city's population is just 138,458, the greater metro area of Charleston, Berkeley, and Dorchester counties together boast a population of over 800,000. Charleston is also the largest city in South Carolina.
Visitors and residents alike enjoy an abundance of water recreation, as well as fishing, plantation and garden tours, parks, nature preserves, historic sites, and museums. Charleston also has plenty to offer by way of nightlife, restaurants, and shopping.
With its sandy beaches and historic downtown, tourism plays a major role in Charleston's economy. Commercial shipping is another important component, and the city's two shipping terminals are welcomed by the area's 65-plus automotive manufacturers and suppliers. A growing information technology industry is an emerging economic influence.
Charleston has a cost of living rating of 111.5, which puts it 11.5% higher than the national average and about 6% higher than the state average. Housing is the biggest factor in the city's higher cost of living index. Cost of utilities, and to a lesser extent groceries, also play a role. However, goods and services, as well as transportation costs, are all lower than the national average.
Table of Contents
Housing in Charleston
Charleston's cost of housing index is about 136.9, putting it 36.9% higher than the national average. In comparison, the rest of the state of South Carolina has a housing index of 73.6. The median list price to purchase a home in Charleston is about $380,000. The housing market has experienced a 7.1% year-over-year climb.
The median list price for single family homes in Charleston is trending around $340,000, and the median price for a Charleston condo is currently around $295,000 and slowly climbing.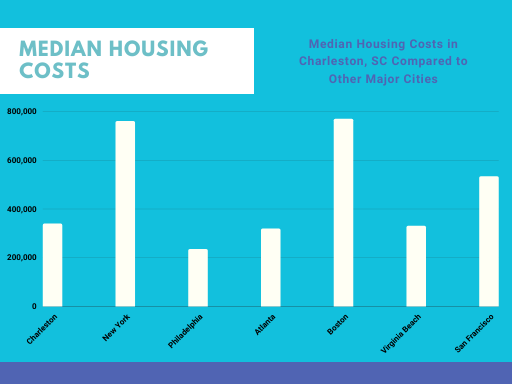 Median list prices for homes in Charleston vary from neighborhood to neighborhood. The median list price in the popular West Ashley Plantation neighborhood is $325,000, while the South of Broad neighborhood's median list price is $1.5 million. Harleston Village neighborhood has a median list price of $750,000 while the median list price in the Shadowmoss neighborhood is $324,000.
Apartments for rent in Charleston have a current median rental price of $1,800 with an average rent rate of $1,413. The average rent is 9.71% lower than a year ago.
Studio apartments rent for about $915, while one-bedroom apartments rent for about $1,081. Two-bedroom apartments rent for around $1,250, and three-bedroom apartments average at $1,654. A four-bedroom rental property will average to around $2,167.
Rent will also vary depending on where the property is located. Rent prices for East Side neighborhood apartments average $2,100, while the average is $2,300 for Radcliffeborough neighborhood apartments. Apartments in the Harleston Village neighborhood are averaging $2,400.
Utilities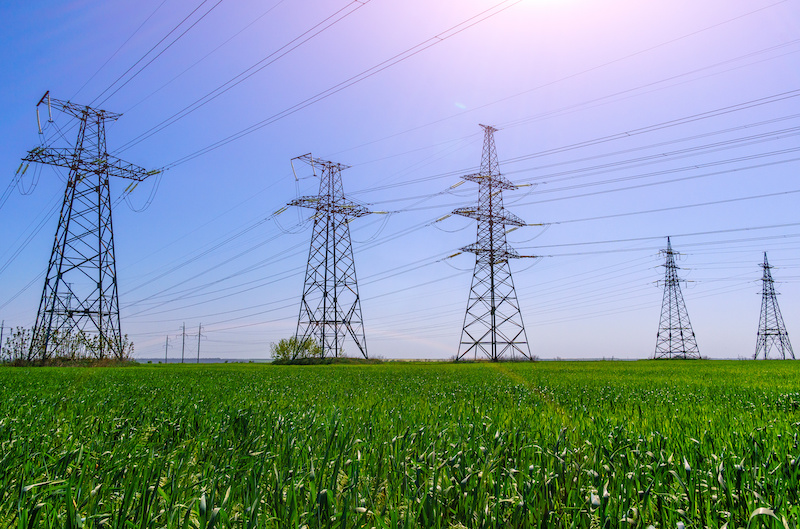 The cost of utilities in Charleston is slightly above the U.S. average, with a cost index of 101.6. The utilities cost index for all of South Carolina is slightly higher than Charleston at 103.9.
Charleston residents spend about 5.3% of their monthly income on utilities. Cost of utilities—including electricity, heating, cooling, water, and garbage—averages about $191 per month for a 915-square foot apartment.
Internet service averages about $61 a month, while mobile phone service for unlimited talk, text, and data runs about $40 per month.
The average cost of homeowner's insurance $2,410 per year in Charleston County, the costliest of all of South Carolina's 46 counties. The average cost of renter's insurance in South Carolina is about $19 per month or $230 per year. This is slightly higher than the average across the country, which is about $16 per month or $192.
Food in Charleston
Groceries play some role in the increased cost of living in Charleston, though not as much as housing. The cost of groceries index is above the national average, at 105.6. South Carolina as a whole has a groceries index under the national average at 95.8.
Groceries
Groceries in Charleston are about 5% higher than the national average. This means that for an average United States citizen who spends $300 on groceries in a month, the same person in Charleston will spend $324.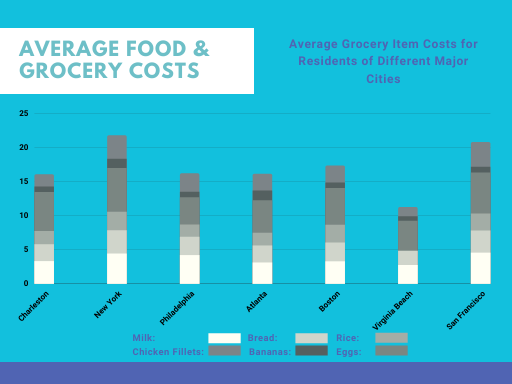 Among the most affordable grocery stores in or near Charleston include Publix, Save-A-Lot, Aldi, Harris Teeter, Piggly Wiggly, JD's Market, and Burbage's Grocery.
Restaurants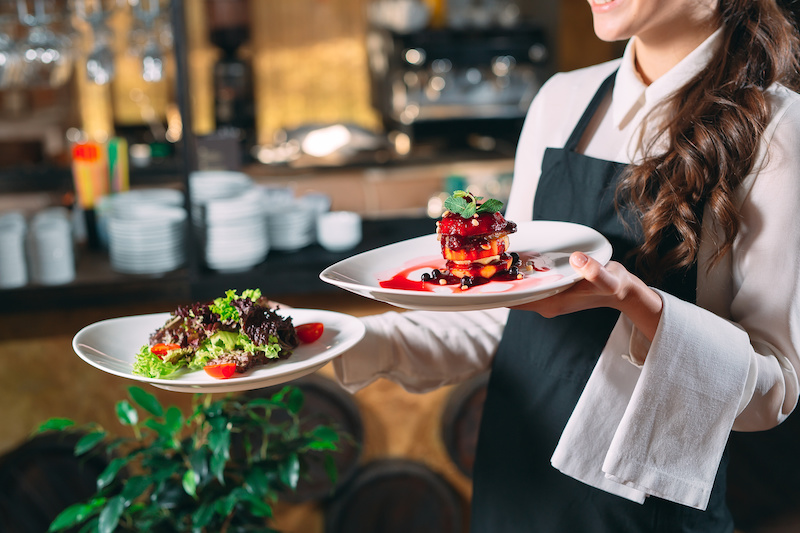 As with any city, the cost of dining out in Charleston varies with the restaurant selected. A combo meal at a fast food restaurant will be about $8, while a basic lunch menu item with a drink in the business district will cost about $15 before the tip. A three-course meal at a mid-range restaurant will cost about $30 before tip.
A pint draught of a domestic beer will cost about $5, while a smaller 12 oz. bottle of imported beer is likely to cost around $8. Coffee lovers can expect to pay $4.84 for a regular cappuccino. Colas cost about $2.38 for a 12 oz. bottle, while water is about $1.64 for the same size.
Transportation in Charleston
The transportation index for Charleston is 94.1, lower than the national average but higher than the state index of 86.8.
Car insurance in Charleston costs about $1,470 per year on average. This is just slightly more than the state average of $1,414 but lower than the national average of $1,548. The average price of gas is about $1.90 for regular unleaded.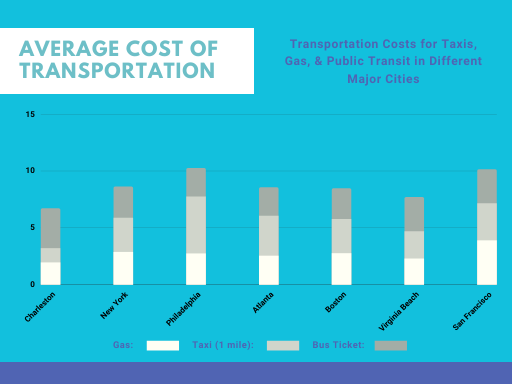 Charleston Area Regional Transportation Authority (CARTA) is the primary public transportation provider covering the Charleston metro area. It ranks among the top public transportation providers in the Southeast. CARTA has an annual ridership of 4 million people.
CARTA fixed route one-way fare is $2 per ride. An express fare is $3.50 per ride. Children under six years old ride free with a paying passenger. Low-income fares of $1.25 per ride are available for those who qualify. Seniors of 55 years and up ride for the discounted fare of $1. A discounted fare of 75 cents per ride is available for disabled passengers.
The average cost of a taxi in Charleston is $7 base price plus $5 per mile. Uber and Lyft provide rideshare services for the region. Uber in Charleston has a base fare of $1.50 plus $1.25 per mile and 18 cents per minute. Lyft fares start at a $4 minimum. There is a $1.09 base fee, plus a $2.95 service fee. Price per mile is 99 cents.
Healthcare in Charleston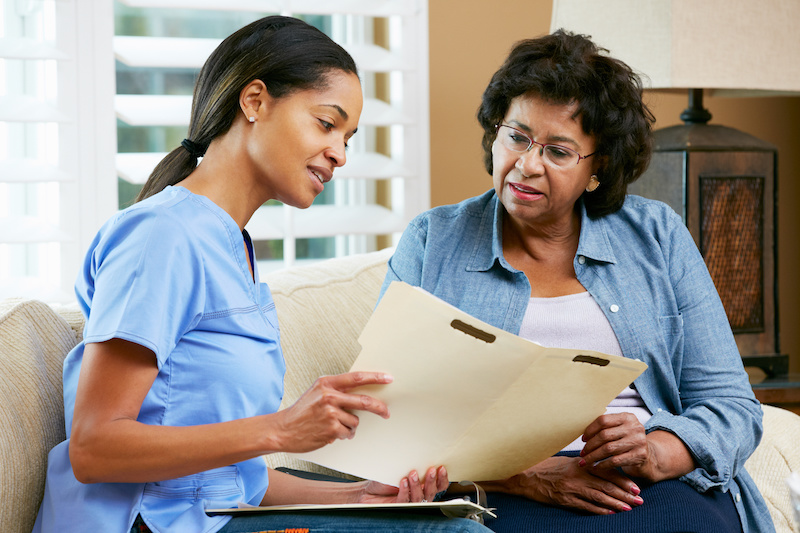 The cost of healthcare in Charleston is 3% higher than the national average. The city has 478 physicians per 100,000 people in Charleston—considerably more than the national average of 210 physicians per 100,000 people.
Residents of South Carolina can expect to pay an average of $197 per person monthly for a basic major medical individual health insurance plan, though prices vary depending on health history.
The average cost of a doctor's visit is $113. A visit to the dentist costs $98 on average, while a trip to the optometrist will cost $107. This compares to the national average of $115 for a doctor's visit, $98 for a visit to the dentist, and $106 for a visit to the optometrist. As for veterinary costs, a routine vet visit costs about $55 in Charleston.
Among the hospitals providing service to Charleston residents are Medical University of South Carolina-University Medical Center, Roper Hospital, Bon Secours St. Francis Hospital, and East Cooper Medical Center.
Childcare in Charleston
There are at least 150 childcare centers in Charleston, while there are 80 afterschool programs available for school-aged children in the metro area. The average cost of daycare is $860 to $1,000 per month for full-time care or $10,392 to $12,000 per year. The South Carolina Voucher Program provides financial assistance to eligible families to help them pay for child care so that parents can work.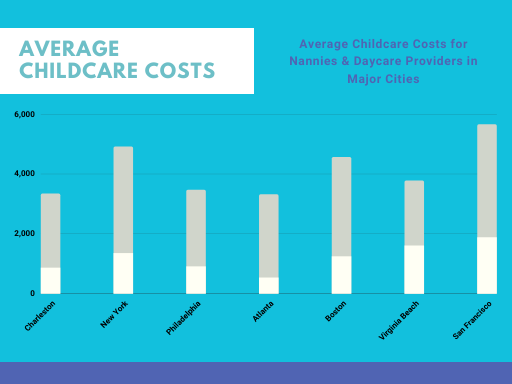 Some examples of childcare centers in Charleston and their annual tuition costs for preschool students are Daniel Island Academy, full-day preschool, $14,025; Charles Towne Montessori, full-day for ages 3–6, $11,400; and Riverpointe Christian Academy for ages 3–4, $9,360.
While the U.S. Department of Health and Human Services' standards say childcare should cost no more than 7% of a family's income, South Carolina parents are spending anywhere from 12% to one-third of their income on childcare.
The typical cost of hiring a nanny in Charleston is about $14.25 an hour. However, rates vary depending on the nanny's experience, as well as the number of children and their ages.
Entertainment in Charleston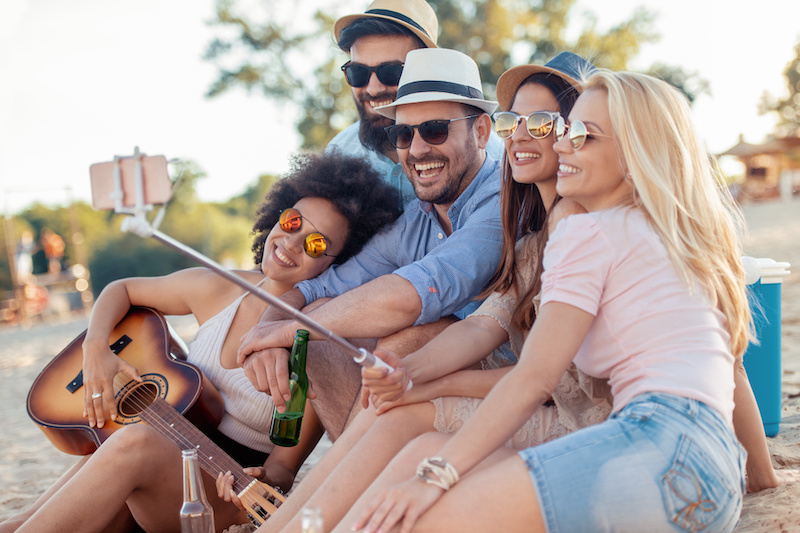 Founded in 1670, the waterfront city of Charleston is known for its scenic beauty, rich history, restaurants, shopping and thriving arts community. The city has been cited among the country's top 10 cities for theater. Two tickets to the theater can be had for $130 on average for best available seats, including the historic Dock Street Theatre.
Charleston features many historic sites and museums. Tickets for touring three popular sites—the Charleston Museum, the Heyward-Washington House, and the Joseph Manigault House—are available for $25.
The South Carolina Aquarium is known as the city's number one family attraction. Tickets are $29.95 for adults and $22.95 for children. Here, visitors can see more than 4,500 different animals and even interact with some of them. They also host events like the Haunted Trail, a spooky trip through the aquarium for the Halloween season, or After Hours, which is a 21+ event where visitors can enjoy a glass of wine while perusing the aquarium.
Middleton Place is a plantation home turned into a museum dedicated to sharing the history of more than 2,800 slaves who worked there. Visitors can interact with actors who help bring those stories to life, or they can take a leisurely stroll through the country's oldest landscaped gardens. General admission is $26 in advance or $29 at the gate for adults.
The city is home to a wide selection of restaurants, eateries, bars, pubs and clubs. A dinner out at one of the city's many neighborhood pubs will cost about $50 for the evening. A cocktail in a downtown club costs about $11, while a beer is about $4.60.
The minimum combined sales tax rate for Charleston is 9%. This is the total of state, county and city sales tax rates. South Carolina's total sales tax (state and local) ranks in the top 20 in the nation.
Salary in Charleston
The average income of a Charleston resident is $33,117 per year, slightly higher than the U.S. average of $28,555 a year. The median household income of a Charleston resident is $52,971 a year, which is close to the U.S. average of $53,482.
The job market in Charleston has increased by 0.7% in the past year. Forecasters predict future job growth over the next decade to be 35.9%. This compares favorably with the predicted national average of 33.5%.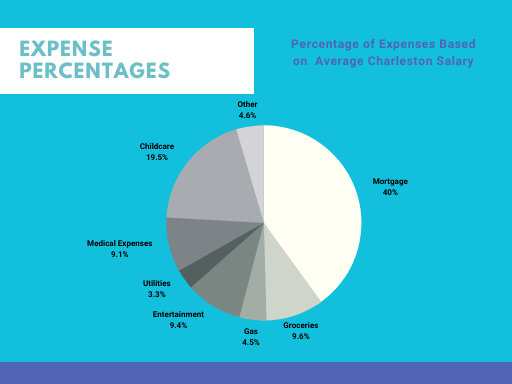 Leading industries for employment in Charleston include aircraft manufacturing, healthcare, retail, automotive and automotive parts manufacturing, computer software, and education. The most popular occupations in Charleston are project manager, operations manager and software engineer. The most popular employers are Medical University of South Carolina (MUSC) and The Boeing Company, followed by Blackbaud, Inc., and Booz, Allen, and Hamilton.
The highest-paying occupations in South Carolina are mostly in the healthcare field and include orthodontists, obstetricians and gynecologists, anesthesiologists, general internal medicine physicians, family medicine physicians, ophthalmologists, chief executives, dentists, podiatrists and pediatricians.
The South Carolina minimum wage is $7.25, which is the same as the national minimum. The unemployment rate in Charleston is 2.6%, which is lower than the national rate of 3.7%.
South Carolina has a progressive income tax system. Tax rates cover a broad spectrum, with a top rate of 7% and a bottom rate of 0%. The state has some of the lowest property and gas taxes in the nation.
Final Considerations About Charleston
Charleston is a city deep in tradition but is continually evolving. Known for its strong tourism industry, Charleston has been named the best city in the U.S. consistently over the last several decades by Travel + Leisure Magazine.
One of the biggest drivers of the cost of living in the area is housing. As with many areas of the country, a tight housing inventory has contributed to rising home prices.
Charleston offers residents and tourists alike a wide array of attractions, activities and historic sites. The city is home to a considerable number of hotels, restaurants, and shops, as well as a thriving art community.
The Port of Charleston is one of the largest in the U.S. and offers the deepest water in the southeast region. The port has made commercial shipping a critical part of the economy as well. In addition, it has contributed to the growth of the city's automotive and auto parts manufacturing industry. Increasingly, Charleston's economy is also being shaped by the growing information technology sector, both in job growth and in corporate presence.