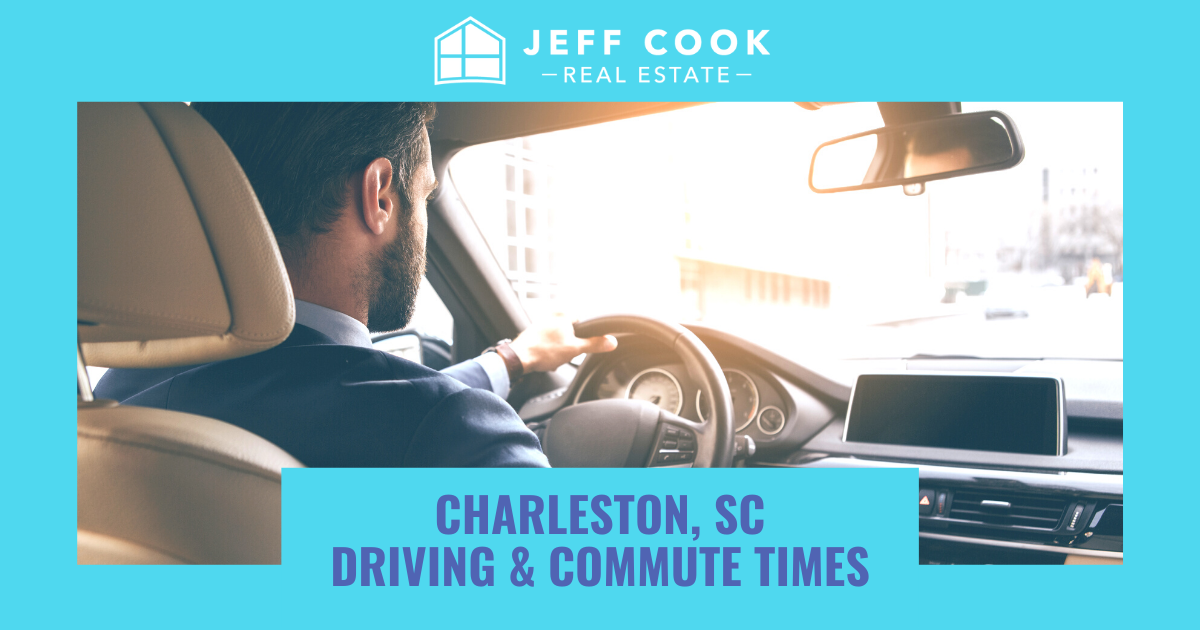 Charleston, SC Driving & Commute Times
Any time a move to a new city is imminent, learning the ins and outs of the city's streets, its major arteries, and the appropriate routes to get to point A from point B, and back again can be a big undertaking—especially for those moving to a heavily trafficked city like Charleston that has a busy network of roads and highways.
Along with navigating a vehicle in and around town, it is beneficial for newcomers to know what to expect during rush hour, what type of parking options are available, and what, if any, special laws are in place for bicycles and cyclists. In addition to traditional traffic, other modes of transportation to be expected and encountered during one's commute include buses provided by the Charleston Area Rapid Transit Authority (CARTA), emergency vehicles, taxis, the Downtown Area Shuttle (DASH), Uber drivers, and pedicabs.
Get to Know Charleston's Major Roads
Charleston's network of roadways offers commuters several options to move into and around the city and the surrounding area. The main connector is Interstate 26 (I-26), which transports commuters to and from Charleston. Other interstates connecting to Charleston include I-20, I-40, I-85, I-77, and I-95. With Charleston's history of areas that can become heavily trafficked during rush hour, it is recommended that new residents become acquainted with the city's main streets, roadways, interstates, and connectors from neighboring areas.
Some key roadways to investigate in the Charleston area include Highway 17, East Bay Street, Lockwood Drive, the James Island connector, Folly Road, Harborview Road, Savannah Highway, Dorchester Road, Rivers Avenue, Bees Ferry Road, King Street, and Meeting Street.
A bridge that people should be aware of for commuting purposes is the Arthur Ravenel Jr. Bridge, which crosses the Cooper River and connects to Charleston's downtown district to nearby Mount Pleasant, less than 10 miles away.
What to Expect During Rush Hour in Charleston
For any busy metropolitan city with active and busy streets, rush-hour traffic is to be expected, and Charleston is no exception. While vehicles play a role in producing heavy traffic in Charleston, pedestrians are also a significant factor. This is especially true of downtown Charleston, which is near two colleges that produce heavy student traffic traversing the area throughout the day. Other areas that may result in traffic jams/slowdowns comes from drivers making their way into the city from the surrounding suburban areas, especially when using city bridges, which tend to experience a heavier traffic flow.
Two main roadways used by area commuters that are prone to slowdowns and traffic jams are Highway 17 and Interstate 26. Rush-hour traffic in the morning occurs between 8 a.m. and 9 a.m., and afternoon traffic slows down and becomes congested between 4:30 p.m. and 5:30 p.m.
Parking in Charleston
Finding a way around Charleston's streets is just one part of what people need to know when they are new to the city. The other part is to know the types of parking options available, and where to find them throughout Charleston. Places to park include on-street metered parking, metered lots, parking for those with disabilities, parking garages, and non-metered lots.
Two options are available to help make parking in Charleston more convenient. One is a residential parking decal for residents who live in the downtown area; the other is the SmartCard parking program, which is an alternative when paying for a parking spot equipped with a meter. Garage parking is available at the Aquarium, Charleston Place, Camden/Exchange, East Bay/Prioleau, Concord/Cumberland, Majestic, Gaillard Auditorium, 99 West Edge, Marion Square, 34 Saint Philip, Visitors Center, 93 Queen Street, and Midtown.
Non-metered lots are available at Market/Horlbeck and the Visitor's Center. Current rates for both are $1 per 30 minutes, with a daily maximum of $18. Metered lots are available at the Auditorium, Beaufain/Archdale Market, Exchange, East Bay, Market, Cone Street, and John Street, with rates of $2 per 30 minutes. Time limits vary, depending on the location, and include 1-, 2-, 4-, and 10-hour options. Payment choices include cash, coin, and credit card.
Additional Tips for Driving in Charleston
Each city/state has its own set of "rules of the road," and while some may be the same or similar, there may be a few that will be unfamiliar to newcomers. When living in Charleston, there are a few South Carolina driving laws people will want to get acquainted with.
If a driver gives another driver a wave indicating they will allow them to merge or turn into moving traffic, that doesn't give the other driver an instant right of way.
South Carolina requires all passengers and the driver to wear a seatbelt.
Texting while driving is against the law. Additionally, drivers watching any type of device for entertainment purposes while driving is illegal.
While those who choose to use a bicycle for getting around town have a legal right to use Charleston's network of roadways, the traffic rules are the same as those used by motorists.
A turn signal, whether the driver uses the vehicle's blinker or a manual signal by hand, is required 100 feet before reaching the street or area where the driver plans to turn.
If a driver's windshield wipers are on due to rain or mist, South Carolina law requires the driver to turn on their headlights.
Before exiting a parking lot or other area designated by a business for parking and joining the flow of traffic, drivers are required to stop and yield the right of way, even if there is no posted stop sign.
Plan Your Drive in Charleston
Charleston offers its residents and visitors many opportunities for outdoor adventures and exploration. Additionally, Charleston provides a diverse network of interstate highways, major streets and roadways, shortcuts and side streets, and back road routes to travel to discover all the city has to offer.
A good way for newcomers to learn the lay of the land, the best routes to take around town, and convenient side streets is by planning several on-the-road excursions. These outings can help people become more knowledgeable and aware of the traffic landscape, no matter what time of day or night, which will result in them being more comfortable when they are behind the wheel heading to their chosen destination.