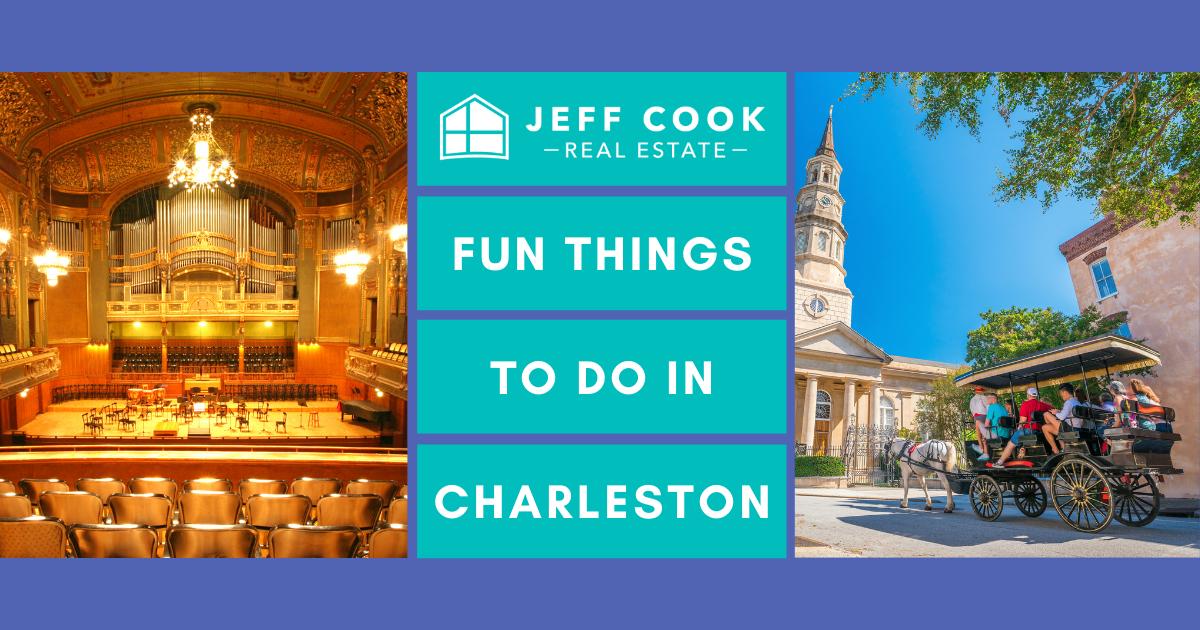 Best Things to Do in Charleston: Charleston, SC Activities & Recreation Guide
The port city of Charleston, South Carolina, is home to more than 155,000 year-round residents, the historic Fort Sumter, and the Battery Promenade overlooking Charleston Harbor. Whether looking to relocate, visit the city for a day (or longer), or as a local looking for something new to do, Charleston has something for everyone.
It's possible to plan a full day just visiting the historic downtown area or even a single museum. There are more than 100 parks plus golf courses, water activities, and an ample selection of dining and shopping options. Be sure to make room for some of the region's fresh seafood and southern favorites like grits, crab cakes, fried green tomatoes, and hush puppies.
Charleston Outdoor Adventures
The city of Charleston, as well as Charleston County, offers residents and visitors to the area a wide selection of outdoor adventures. From a friendly pick-up game of basketball to splashing fun at a water park, hiking a scenic trail, or spending some time strolling through a tranquil garden, there are outdoor activities to fit all lifestyles.
Parks
Parks in Charleston
James Island County Park
Hampton Park
Joe Riley Waterfront Park
White Point Garden
Brittlebank Park
With 120 parks and facilities located in the city of Charleston, more than 1,800 acres are designated for outdoor recreation space. These include sprawling parks with multiple sports fields, swimming pools, and community centers, plus neighborhood parks like the Eliotborough Park that offers a nature break amid the urban landscape.
In Charleston, there are more than a dozen designated dog parks. Some are located in neighborhood parks like Horselot on Chisolm Street, while others are part of a large recreation space like the Hazel Parker Park on East Bay Street.
Water Recreation
Water Recreation in Charleston
Herbert Hasell
MLK Pool at Martin Park
Forest Playground Park
James Island Recreation Center
As a port city, Charleston is known for its water activities. Sport fishing, swimming, and kayaking are just a few. Many of the parks have ponds, lakes, and water features, and the city maintains four public swimming pools.
Water recreation also includes the Splash Zone Waterpark located at the James Island County Park. The park also has a spray-and-play fountain, a pier open for fishing, and kayak and pedal boat rentals. The Joe Riley Waterfront Park is on the Cooper River, while the Charleston Harbor is a site for several water activities, from stand-up paddling to fishing, dolphin sighting, and more.
Hiking & Biking Trails
Trails in Charleston
Kearns Park Trail
Patriots Point Nature Trail
Sullivan's Island Nature Trail
Marsh View Trail
Tuxbury Horse Trail
For anyone that enjoys hiking or biking, Charleston has 42 parks with paths and trails. This includes the paved trails at the James Island County Park and the Ashley River Walk on Lockwood Drive located near the Yacht Club.
Most of the walking/jogging paths in the Charleston park system are open from sunrise to sunset. The walking path at Wragg Mall is one block from three major city museums, while the path at Plymouth Park has water views and access to the Riverland Terrace Boat Landing.
Hampton Park is a hot spot for biking, as is the Ravenel Bridge that spans nearly three miles. There is also the East Bay Bike Path, plus the waterfront views when cycling through South of Broad, which is one of the best neighborhoods in Charleston.
Choosing an outdoor adventure in Charleston can be tough because there is so much to do. This South Carolina city embodies the adventurous spirit, and its climate makes it ideal to explore the outdoors year-round.
Shopping Centers in Charleston
Citadel Mall
The Shops at Belmond Charleston Place
Village Square Shopping Center
Quadrangle Shopping Center
West Ashley Shoppes
Shopping in Charleston, South Carolina, means open-air plazas, historic districts, and contemporary indoor malls with major retailers.
Shoppers can spend a day at the Citadel Mall, which features more than 100 stores, places to eat, entertainment venues, and service businesses like LensCrafters and Planet Fitness.
Historic King Street in downtown is home to boutiques, antique shops, galleries, and restaurants. Its Antique District stretches from Broadway to Market, the Fashion District spans Market to Calhoun, and the Design and Dining District runs from Marian Square to Spring Street.
The Historic Charleston City Market covers a four-block area, has 300+ vendors, and is one of the country's oldest public marketplaces. It's located west of East Bay Street and is within walking distance of several hotels.
Throughout the city, there are numerous plazas and shopping centers with grocery stores, retailers, service businesses, and restaurants.
Charleston Restaurants
Restaurants in Charleston
Halls Chophouse
Magnolias
Slightly North of Broad Restaurant
FIG
Husk
Hank's Seafood Restaurant
Dining experiences are waiting to be savored throughout Charleston, South Carolina. Diners can tempt their taste buds with cuisines from around the globe, but it's often the locally sourced ingredients like fresh-caught seafood that draw a crowd. For great, fresh seafood, people should check out restaurants like the Oyster House on Market in the downtown French Quarter or Hank's Seafood on Church and Hayne Streets.
Pane e Vino serves up Italian on Warren Street, while the Swamp Fox Restaurant on King Street offers classic southern cuisine for breakfast, lunch, and dinner. California Dreaming on Ashley Point Drive has an outdoor deck and overlooks the Ashley River, while the Cru Café on Pinckney is housed in an 18th century home.
The Historic Downtown Peninsula area has incredible dining for all tastes. It includes Fig on Meeting Street for a seasonally inspired menu, 82 Queen for Lowcountry cuisine, Barsa for Spanish Tapas, and the Eleve the Grand Bohemian Hotel for wine.
Arts & Culture in Charleston
Arts and cultural venues in Charleston create unforgettable experiences, from live theatrical performances to galleries with local artists and museums of great historical significance. People can plan a day to tour historic homes, enjoy hands-on exhibits at the kid's museum, and then stay for an event at one of the theatres.
Museums
Museums in Charleston
The Charleston Museum
Museum at Market Hall
Old Slave Mart Museum
Nathaniel Russell House
The Charleston Museum is the country's first museum, originally founded in 1773. Visitors can explore multiple collections and exhibits, participate in educational programs, and attend special events. It's part of what's known as the city's "Museum Mile", which includes six museums, five historic homes, four parks, and the city's Revolutionary War powder magazine. The City Hall and Market also are part of the Museum Mile area.
Art Galleries
Art Galleries in Charleston
Atrium Art Gallery
Miller Gallery
Robert Lange Studios
Principle Gallery Charleston
Art galleries and venues throughout the city feature both local and international artisans. People can discover the Chuma Gullah Gallery at the Historic City Market, and the Meyer Vogl Gallery located in downtown's French Quarter.
The Vendue is Charleston's only art hotel, also located in the Historic District. It's home to a large collection of original art, displayed in a main gallery as well as in guest rooms. Art from the Robert Lange Studios (Queen Street) is also on display at the Vendue.
Art lovers can find the Dog & Horse Fine Art studio at 102 Church Street, and the Atrium Art Gallery at 61 Queen Street. Other galleries and exhibits include venues like the Gibbs Museum of Art, the Grand Bohemian Gallery, the Miller Gallery, and the Edward Dare Gallery.
Dance & Theatre
Performing Arts in Charleston
Charleston Gaillard Center
North Charleston Coliseum & Performing Arts Center
34 West Theater Company
Charleston Music Hall
The Charleston Stage Company at the Historic Dock Street Theatre was founded in 1978, but makes its home in the first building in America to be built expressly for theatrical performances.
The Gaillard Center is a large performance venue that hosts concerts, ballets, theatrical plays, and more. The North Charleston Performing Arts Center offers a Best of Broadway season plus concerts from the North Charleston Pops Orchestra. The Footlight Players are considered the city's oldest theatrical group, established in 1931. They perform a range of shows year-round.
Live entertainment in Charleston includes professional and community theater, as well as talented dance troupes that perform throughout the year. The city has several dance companies, including the Annex Dance Company, DanceFX, and the Dance Conservatory.
Charleston Nightlife
Bars, Clubs, and Music in Charleston
The Cocktail Club
Burns Alley Tavern
Mynt
Voodoo Tiki Bar & Lounge
Forte Jazz Lounge
When the sun sets and the stars come out, the nightlife in Charleston heats up. For the 21+ crowd in Charleston, the city has a pulsating beat, with venues open for dancing, cocktails, and live music. People can hit the rooftop bar at The Vendue for a drink with a scenic view, or they stop in for a classic cocktail at the Victor Social Club on Hutson Alley.
The Commodore has musicians playing jazz and funk, while the Voodoo Tiki Bar and Lounge features Cuban jazz and offers patrons a seat on their outdoor patio. The Cocktail Club is a speakeasy-style venue located above the Macintosh restaurant, serving contemporary cocktails and farm-to-shaker creations.
People can dance at the Deco Nightclub or at Mynt. Trio offers live DJs, a dance floor, and an outdoor terrace. The Rusty Bull Brewing in North Charleston has live music, special events, and craft beers, while Prohibition on King Street downtown features fresh food, unique cocktails, and two patios.
Things to Do in Charleston Never Stop
Things to do in Charleston, South Carolina, are sure to entertain and engage even the hardest to please. While the city is rich in historic landmarks, museums, and cultural venues, it's also home to many contemporary delights like trendy restaurants, nightclubs, and shopping malls. The outdoor adventure enthusiast can go kayaking, hiking, camping, fishing, and more at Charleston's city and county parks. Add Charleston, South Carolina, as a vacation or relocation destination today.