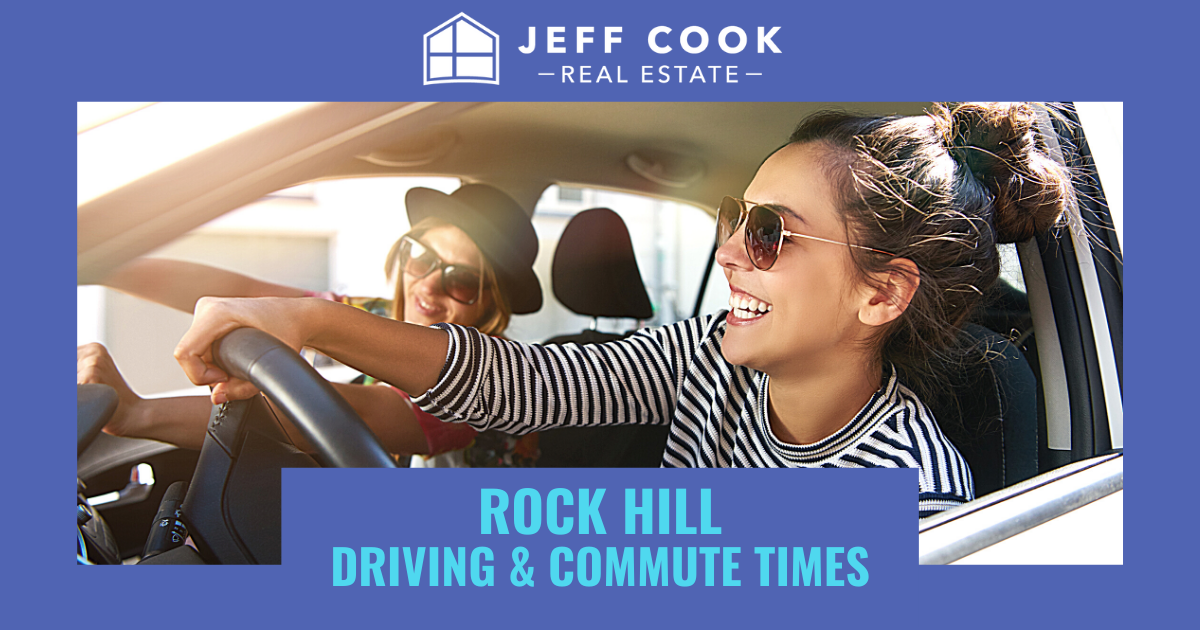 Charlotte, NC Driving & Commute Times
Charlotte, North Carolina, is home to nearly 900,000 residents, the seventh-largest airport in the world (based on traffic), and dozens of major entertainment and sports venues, including the Lowe's Motor Speedway. The city is located in the southern portion of the state near the South Carolina border and is the county seat for Mecklenburg County. The greater metropolitan area of Charlotte has more than 2.6 million people, and with that many commuters traveling to and through, it's critical for everyone to know the ins and outs of driving in the "Queen City".
Get to Know Charlotte's Major Roads
Several U.S. interstates run through, around, and near Charlotte, making highway travel convenient and necessary when commuting for work, errands, or recreational purposes. These include Interstates 485, 85, 77, and 277.
I-485 encircles Charlotte and is a beltway highway with a 67-mile circumference. It connects with I-85 and I-77, which intersect near central Charlotte. I-77 offers Express Lanes, or dedicated toll lanes, that run between Exit 11 and 36 (N.C. 150, Mooresville). The Express Lanes are free if the vehicle has three or more total occupants (HOV: high-occupancy vehicle). I-77 northbound leads to Huntersville, Cornelius, Mooresville, and Statesville, while I-77 southwest leads to Riverview and Blythwood.
I-85 runs northeast into Salisbury and Lexington, and then through Charlotte. As it winds westward to McAdenville, the highway also is listed as the Sen. Marshall Arthur Rauch Highway.
I-277 is an auxiliary state highway, a partial loop around Charlotte that runs 4.4 miles hitting to the east side of I-77 and U.S. Highway 21. It circles the city's central business district with its north end connecting to NC 16 (Brookshire Freeway) and traveling northwest to I-85. Exits 4 to 5 on I-277 typically have the most daily traffic, approximately 132,000 vehicles.
NC 51, a primary state highway in Mecklenburg County, is Pineville-Matthews Road. It's a major route that spans about 22 miles with its southern end at the South Carolina state line and its northern end in Mint Hill. It intersects with Highway 74/East Independence Boulevard. NC 16 intersects with I-85, I-77, and I-277, and is a main route to the Johnson C. Smith University located off Beatties Ford Road.
What to Expect During Rush Hour in Charlotte
Like any metropolitan area, Charlotte has rush-hour traffic where travel times typically are longer than average. Usually those rush hours occur between 7:30 a.m. and 9:00 a.m., and then again between 4:30 p.m. and 6:30 p.m. Every year, Charlotte drivers lose 49 hours to traffic congestion. This number comes from the INRIX Global Traffic Scorecard, which lists Charlotte 128 out of 167 cities for congestion.
According to the U.S. Census Bureau's most current data, the mean travel time for commuters in Charlotte is 25.7 minutes, with the heaviest traffic near Uptown. The Charlotte Observer reports that a few of the most congested areas in both the morning and evening rush hours are:
Charlottetown Ave. & East John Belk & Kenilworth Ave. & Stonewall Street
Providence Road & Queens Road
East Moreheads Street & Kings Drive
East Seventh Street & North Caswell Road & Pecan Ave.
Local news outlets like WSOC.tv offer live traffic maps to make it easier for drivers to stay up-to-date about local road conditions any time, day or night.
Parking in Charlotte
Uptown Charlotte is the heart of the city, the hub that brings together businesses, unique dining and nightlife, art, cultural venues, beautiful parks and greenways, event centers, and pro sports. Whether settling into Charlotte as a resident or planning a visit, Uptown will be a destination. Therefore, it's essential to understand parking options for anyone not utilizing public transportation. There are multiple surface parking lots and decks at various price points.
The surface lot at 124 South Poplar Street is within walking distance to the BB&T ballpark (home of Charlotte Knights baseball), the U.S. District Court Clerk, and dozens of places to eat and drink. The surface lot at 400 North Tryon Street is one block from the McGlohan Theatre and the Discovery Place Science Museum. Drivers should opt for the parking deck at 200 North College Street for proximity to the Belk Theatre, the Levine Museum, and dozens of restaurants.
Charlotte offers parking pay stations for various street parking areas. Drivers only need to take note of the curb space number where the vehicle is parked, and can then pay at the closest pay station using cash, credit, or Park It tokens. A receipt is generated that has the curb space number and the parking expiration time. Most curb spaces have a two-hour limit, and rates are usually $1 per hour.
Free parking can be found in Uptown and throughout Charlotte. Drivers need to refer to posted parking signs with hours and exceptions for street and lot parking.
Other Helpful Things to Know About Driving in Charlotte
When driving in Charlotte, North Carolina, there are several things that can be helpful for drivers to know before heading out on the road. A few state laws include:
No texting: drivers can't read or write texts or emails while their vehicle is moving, or this can result in a $100 fine
Don't litter: fine of up to $200
Helmet law: helmets are required for motorcycles and mopeds (also for children riding bicycles who are younger than sixteen years old)
Move Over law: drivers must move over one lane or slow down (if moving lanes not possible) when any emergency or law enforcement vehicles with flashing lights are nearby/passing; fines for failure to move over can reach $250
The NC Quick Pass is an easy and convenient way to pay for tolls when regularly using I-77. The state also accepts payments via E-ZPass, Peach Pass, and SunPass. The Light Rail lane is for public transit system vehicles only; drivers are not allowed to use the Light Rail lane when commuting through Charlotte. The city is home to several designated bike lanes, so it's essential that drivers are aware at all times of potential cyclists on the road.
Plan Your Drive in Charlotte
Traveling and driving in any major city of the United States can be a challenge. However, knowing which highways and major routes offer the most direct connections can be as important as avoiding high-traffic times and chronically congested areas. In Charlotte, North Carolina, drivers should plan an average (one-way) commute time of about 30 minutes. When driving in Uptown, they should utilize convenient parking lots and available street parking. Whatever the occasion to be out on the road, drivers should remember that Charlotte and North Carolina laws work to keep everyone safe.