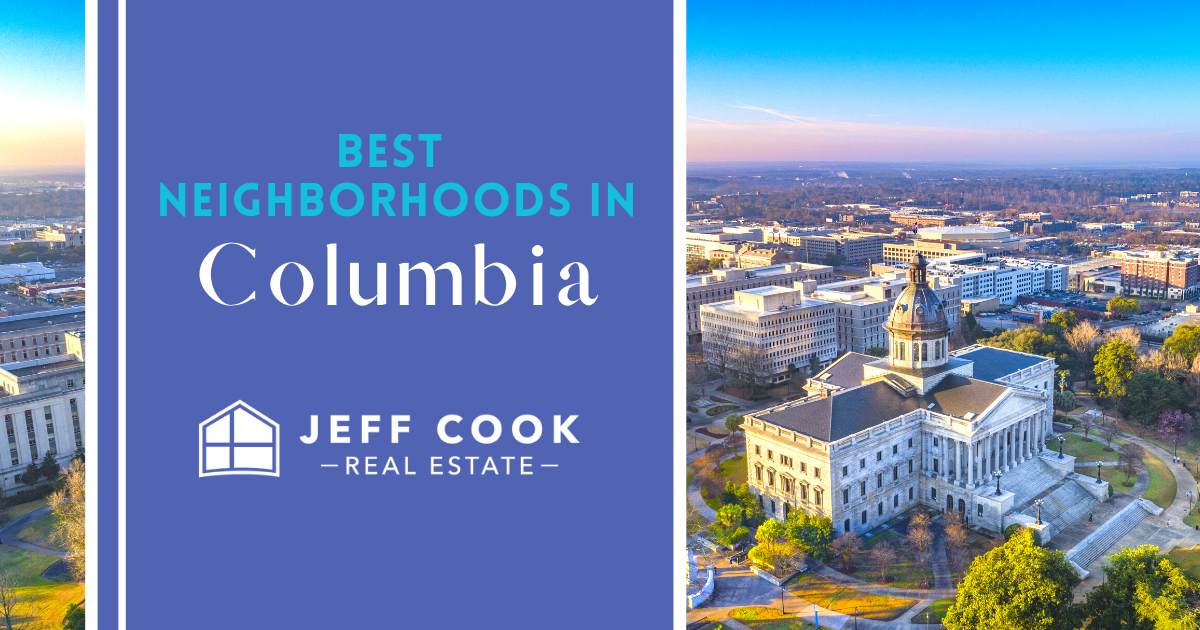 Best Neighborhoods in Columbia: Columbia, SC Community Living Guide
Columbia, South Carolina's capital city, has a rich and lively history. It was established in 1854 as the second planned city in the United States, behind New Haven, Connecticut. Renowned for its live music, food, art and cultural scenes, Columbia has several nicknames including The Capital City, Cola, Soda City, and The River City.
The epitome of "southern charm," Columbia's streets are broad and tree-lined with people almost always walking around. Its homes feature prominent wraparound porches, well-manicured lawns, and mature gardens. As the type of community where residents walk to school, and neighbors spend afternoons socializing over glasses of sweet tea, Columbia has something to offer everyone. All of this combined with its lower cost of living, Columbia is a city that welcomes everyone.
Main Street District
Main Street District Amenities
Multiple fitness centers
Salons and barbershops
Soda City Market
Columbia's Main Street District is the ideal neighborhood for people who enjoy being at the center of everything. Many of the city's hottest eateries and shops are in the Main Street District, and it hosts several festivals, art and cultural events, concerts, and other events throughout the year. Highlights include the renowned weekly Soda City Market, the Nickelodeon Theatre (affectionately called "The Nick" by locals), and First Thursday on Main.
The Main Street District is also historically significant to Columbia's development. Since the Capital City was founded in 1786, Main Street has always been Columbia's primary business district and thoroughfare. Today, many well-preserved and restored historic buildings still line the wide streets, evoking the picturesque classic Old South charm. It's easy to find condos and townhomes for sale in the Main Street District. Living here allows residents to enjoy the very best of both worlds—old and new—while also having immediate access to some of the city's best amenities and attractions.
Main Street District Hotspots
Shandon
Shandon Amenities
Sims Park
Emily Douglas Park
Multiple grocery stores
University of South Carolina campus
Several churches
Shandon is bounded by Devine Street to Rosewood and Harden Road to Kilbourne. It is one of Columbia's oldest neighborhoods, which is reflected in the eclectic architecture of its homes. There are traditional Southern-style brick homes with large pillars and wraparound porches alongside contemporary craftsman-style homes. Shandon's streets are broad and shaded by canopies of trees, and there are a number of neighborhood schools and parks. The University of South Carolina is an easy walk or bike ride and Shandon is adjacent to popular entertainment and commerce districts including Rosewood and Five Points.
When Shandon was established in the early 1900s, every resident was a member of the Community Club, a dues-free neighborhood organization. That strong sense of community spirit is still very much present in Shandon today, with a multi-generational demographic, several independent and locally-owned small businesses, and many neighborhood events held throughout the year.
Rosewood
Rosewood Amenities
Well-maintained walking and biking paths
Eight parks, including some with splash pads
Owens Field Park with a large skate park and disc golf course
At one time, Rosewood was almost entirely a residential neighborhood. The community was established in the 1920s on the south side of Columbia and has been redeveloped and revitalized throughout the years. Today, interspersed with homes are shops, restaurants, and neighborhood amenities that cater to all ages and lifestyles. Rosewood homes are well-maintained, and there are several schools and parks in the neighborhood.
Unique local businesses anchor Rosewood, including the Hunter-Gatherer Brewery and Alehouse, located in a former airport hangar, and City Roots, a 3.5-acre urban farm that's open to the public. It plays a critical role in the local business and dining landscape, with several restaurants featuring menu items made with City Roots produce. Rosewood is also home to a number of Columbia's most beloved annual festivals, including the Rosewood Crawfish Festival and the Palmetto Tasty Tomato Festival.
Elmwood Park
Elmwood Park Amenities
Neighborhood parks, including Elmwood/Roy Lynch Park
Easy access to Main Street District shopping
Several churches
Community events organized by the Elmwood Park Neighborhood Association
Columbia's Elmwood Park neighborhood could be the postcard for Columbia as a whole. Its mature gardens, wraparound porches, shaded streets, and children riding bicycles on the sidewalks are what many people picture when they think of the city. The picturesque, sociable community feels as if it's in another time period where life moves at a slower pace, yet it's just minutes away from the bustling Main Street District. Cultural attractions including the State Museum and the Columbia Museum of Art are also nearby.
In 1991, Elmwood Park Historic District was officially designated on the National Register of Historic Places. Most of the neighborhood's homes were built well over a century ago and have been beautifully restored. While many homes have preserved some original design elements, Elmwood Park features a mixture of different architectural styles. Community pride is strong in Elmwood Park, with many residents taking part in the monthly town hall meetings.
Elmwood Park Hotspots
Elmwood Park Shopping
Elmwood Park Cafés
Sweet Temptations Bakery
Indah Coffee
Elmwood Park Restaurants
Olympia-Granby
Olympia-Granby Amenities
University of South Carolina
Proximity to Columbia Union Station
Several parks including Founders Park
Numerous grocery stores and neighborhood convenience stores
The Olympia-Granby neighborhood provides a direct link to the city's history in textiles. Technically two villages, Olympia-Granby is comprised of Olympia Mill and Granby Mill, two important cotton mills. Granby Mill was South Carolina's first cotton mill to operate on off-site hydroelectric power, while Olympia Mill was, for a time, the largest cotton mill in the world. In the late 1890s, a community of laborers grew around the mills and it became known as Olympia-Granby.
Both mills ran successfully for nearly 100 years and closed down in 1996. The buildings sat vacant for many years but were converted into apartments and condominiums in 2007. Today, the neighborhood is one of Columbia's most sought-after. It sits along the Congaree River just outside downtown Columbia, close to everything one could possibly want or need. The university and Union Station are easily accessible, there's immediate access to walking and biking paths, and countless restaurants, bars, cafes, and shops are nearby.
Congaree Vista
Congaree Vista Amenities
On the Congaree River with kayaking and walking paths
Publix grocery store
Locally known as "The Vista," Congaree Vista dates back to the early 1900s, one of Columbia's original historic commercial districts. The 48-block district centers around several rehabilitated buildings and today is a lively and eclectic artisan community. Many of the city's makers and creators choose to live in The Vista and the artist spirit is clearly woven throughout the community. In fact, it's designated as an official South Carolina Cultural District. It's not at all uncommon to see buildings covered in elaborate murals, come across musicians performing in parks or on street corners, or find "pop up" festivals, artisan markets, and other special events.
Congaree Vista also has more than 45 restaurants and bars sprinkled in with the dozens of art galleries and performing arts venues. The neighborhood is really more of a vibrant entertainment district, with an abundance of upscale shopping, dining, nightlife, and recreational opportunities to suit every taste.
Five Points
Five Points Amenities
Proximity to the University of Southern Carolina
Several community organizations
High concentration of small local businesses
Dog-friendly restaurants and cafes
Five Points is situated at the heart of downtown Columbia, adjacent to the University of South Carolina and surrounded by some of the city's most well-established neighborhoods. So-named for the five different major roads that converge in this area, Five Points is commonly thought of as a neighborhood that caters primarily to university students. However, that couldn't be further from the truth. While there are certainly plenty of amenities geared toward students in Five Points, there are also a vast range of shops, restaurants, and attractions designed to appeal to everyone.
Locals know Five Points as Columbia's "Original Village Neighborhood." It's also quirky and unique. There aren't any anchor stores in Five Points, but instead the community is home to more independent, locally-owned businesses than any other area in the city. High-end art galleries and clothing boutiques stand alongside 100-year-old restored homes and niche grocery stores, and residents will find pocket parks and green spaces mixed in as well.
Living in Columbia's Best Neighborhoods
Each one of Columbia's neighborhoods is unique in its own way and has something to offer everyone, but what they all share is the city's signature southern charm and welcoming hospitality. When moving to Columbia, it's nearly impossible to choose incorrectly. Starting the search with Columbia's most beloved neighborhoods is a great way to get a feel for everything this amazing city has to offer.