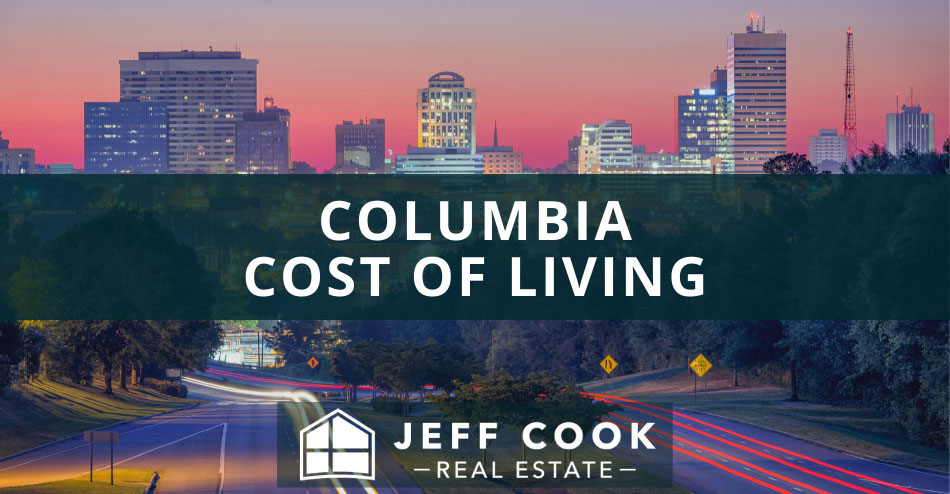 How Much Does it Cost to Live in Columbia?
As the capital city of South Carolina, Columbia is a thriving cultural center that is well-suited to all kinds of newcomers. With convenient access to the amenities of a developed city as well as beautiful beaches and mountains a short drive away, Columbia is an excellent destination. Not only can visitors and residents enjoy the natural beauty that surrounds Columbia, there is also a diverse range of attractions available within the city. Museums, restaurants, parks, and zoos are at your fingertips to dive into the local culture and appreciate South Carolina's unique charm.
Even better, this is the second-largest city in South Carolina, and Columbia offers a high quality of life without breaking the bank. In fact, Columbia's cost of living is 84.3, making it more than 15% less expensive than the national average. Housing, food, health care and transportation all factor into the advantageous cost of living in Columbia. Here is everything you need to know about Columbia and how much money it costs to live there.
Table of Contents
Housing in Columbia
Newcomers will find that the housing costs in Columbia are significantly lower than in other American cities, with buying and renting costs up to 40% below the national average. With a successful housing market, there is no shortage of homes to rent. In reality, many residents prefer to rent rather than buy the homes or apartments that they move into. When compared to cities of comparable size, Columbia is consistently less expensive in terms of housing and related costs, even with housing costs increasing 4% when compared to last year.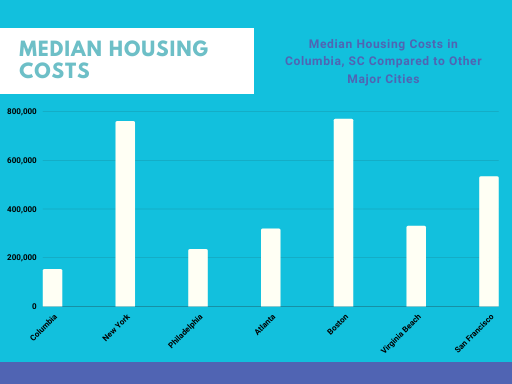 Columbia is actually 17% less expensive than a city like Nashville but maintains an enjoyable quality of life for residents. What is more, current inhabitants say that the city provides convenient proximity to neighboring states and cities to visit. Overall, Columbia residents enjoy reduced housing costs when compared to the national average.
Data shows that the median cost of a home in Columbia is $136,700, whereas the national average is $231,200. As previously mentioned, many residents of Columbia, SC choose to rent homes instead of purchasing them, which invariably affects the average monthly cost of housing. In fact, there is almost an even 50-50 split between the homes in Columbia that are occupied by renters and those that are occupied by the owners.
When looking for an apartment in Columbia, SC, it can be beneficial to first identify the desired neighborhood based on proximity to work, schools, entertainment, and food options. On average, apartment renters can expect to pay between around $748 for a studio apartment in Columbia, depending on its location. Prices increase slightly with the additional square footage of a one-bedroom apartment, coming in at around $923. For a two-bedroom apartment, prices will be around $1,060 per month. Three-bedroom and four-bedroom rental properties are the most expensive, and they will typically cost around $1,537 and $1,743, respectively.
Utilities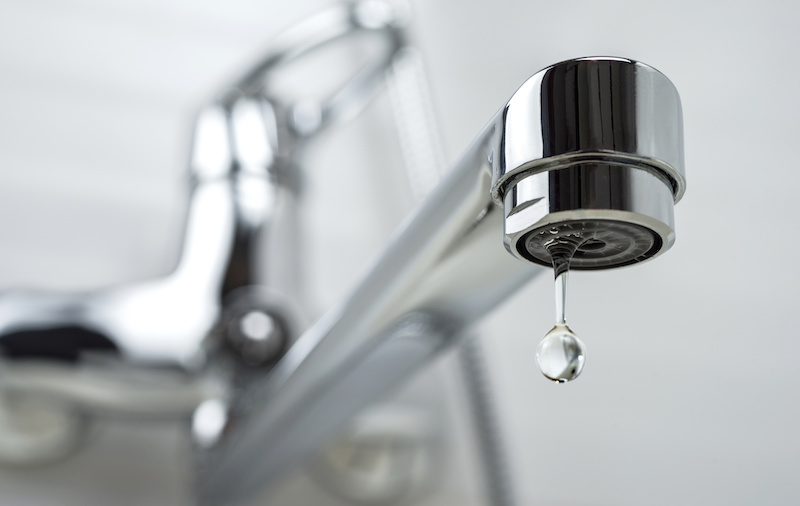 When compared to the lower-than-average housing costs, the cost of utilities in Columbia, SC is actually slightly higher than the national average. Residents can expect to pay up to 8.9% more for utilities such as electricity, gas, Internet, cable, and water. Columbia residents can expect to spend around $140 per month for their basic utilities in a 915 square foot apartment, and an Internet package will add $62.50 to that.
Food in Columbia
Overall, Columbia has a grocery cost rating of 96, which puts it 4% less expensive than the national average. On average, individuals who choose moderately-priced groceries in the United States typically spend $257–$303 per month on food, and a larger household will typically spend $894–$1,068 each month.
Groceries
Columbia residents have a lot of choices for where they want to purchase their groceries. Kroger, Trader Joe's, and Piggly Wiggly are all reliable options, and there are also one-stop stores like Target and Sam's Club where shoppers can walk out with ingredients for dinner and some new curtains for their bedroom. Some of these big box stores can have more expensive prices, though.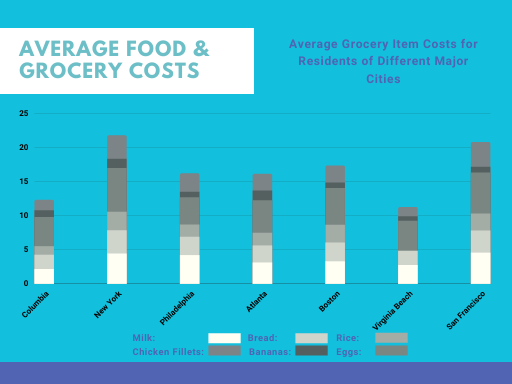 On average, Columbia residents can walk into their preferred grocery store and expect to spend between $246.72 and 290.88, compared to the above numbers for the average United States citizen. While 4% may not seem like a lot on paper, those savings add up over time.
Restaurants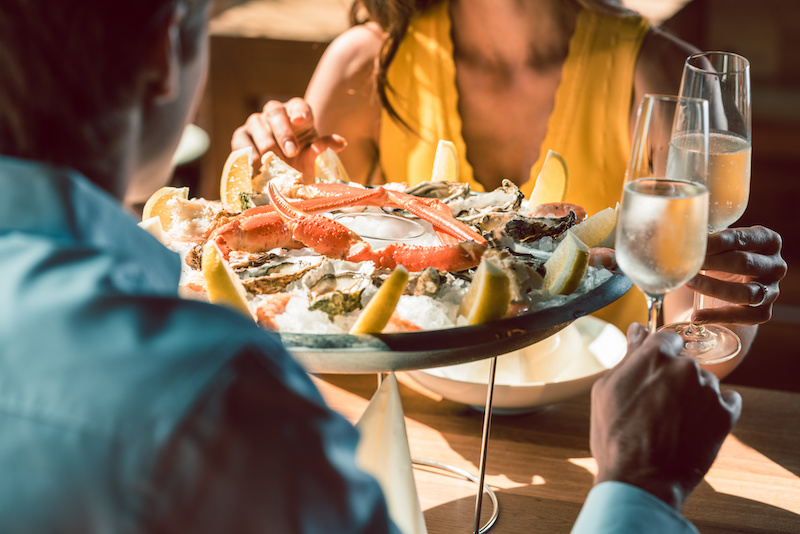 There is a fine collection of restaurants in Columbia for individuals, couples, families, or groups of friends. On average, dining in an inexpensive restaurant costs around $10 before the tip, whereas having a 3-course meal for 2 people in a mid-range restaurant will cost around $50, also before the tip. Several unique restaurants can be found in the city, from family-run diners to a range of refined restaurants.
Highly-praised restaurants in Columbia include The Devine Cinnamon Roll Deli, an American deli that's known for its unique cinnamon roll flavors and delicious sandwiches. Fans of Italian cuisine will enjoy Alodia's Cucina Italiana which offers scrumptious crab cakes, cannolis, and more in a similar price range. Many restaurants like Maurice's Piggie Park offer delivery, an increasingly desired option. With these fantastic recommendations and more, there is no shortage of tasty meals in Columbia, SC.
Columbia Transportation
The cost of transportation in Columbia is a lot less expensive than the national average at 76.4. On average, car owners in Columbia spend $1,438 per year on insurance, which is more than the South Carolina average of $1,414 but less than the national average of $1,548. South Carolina is known for having some of the least expensive gas prices in the nation, and this is also true for Columbia. The average price for a gallon of gasoline in Columbia is currently $1.70.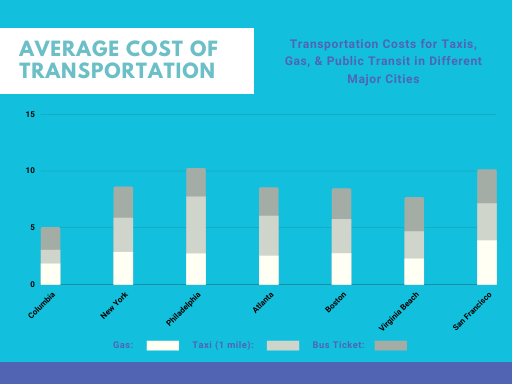 Those who use public transit have a few different options, the first of which is The COMET. This bus system offers day, week, and month passes for $4, $14, and $40 respectively, or one-way tickets for $2. Discounted and free fares are also available for those who are eligible. Alternatively, the Soda Cap Connector is free for those seeking transportation between the various entertainment districts.
For those who are disabled and unable to use traditional public transit, there is the Dial-A-Ride Transit, also known as DART. Those who wish to use DART will need to submit an application, but once they get approved, they can ride for $4 per ride.
Columbia also has a bike-share program for those who would rather ride a bike than a bus. Blue Bike is offered through BlueCross BlueShield of South Carolina, and riders can choose to purchase a single ride, a monthly membership, or an annual membership.
Healthcare in Columbia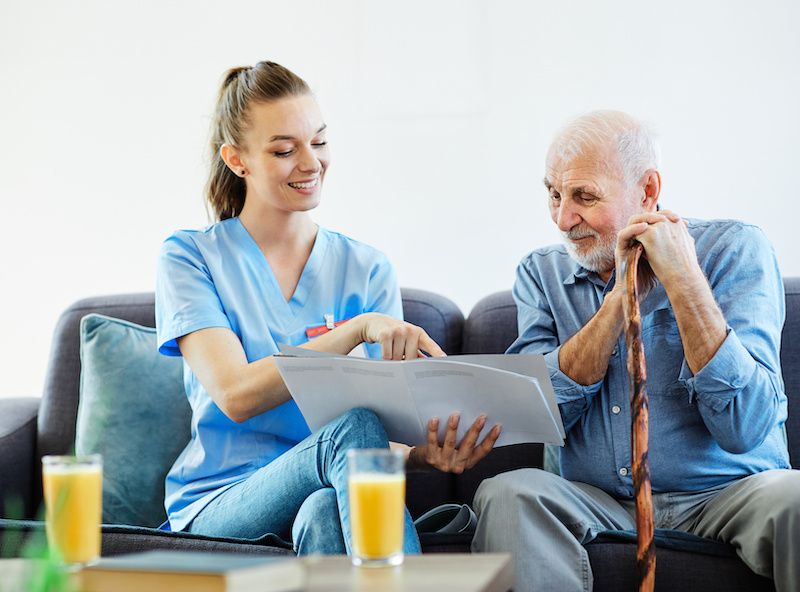 On average, healthcare is 7% less expensive in Columbia than the national average. A standard doctor's visit will cost about $103.29, a routine teeth cleaning at the dentist will cost $88.74, and a vision checkup at the optometrist will cost $96.79. These prices can also fluctuate depending on the resident's health insurance and co-pays.
For a routine visit to the vet, pet owners can typically expect to pay around $56.46. However, this can vary depending on the animal. Exotic pet veterinarians for pets like reptiles and birds can sometimes be more expensive due to the specialized care needed.
Child Care in Columbia
There are ample childcare services in Columbia, SC to accommodate working parents or caretakers. Both full-time and part-time care facilities can be found in the city, and there are services run out of established facilities and from homes. On average, the monthly cost of child care for one child is $866, which adds up to $10,392 per year. The cost will also vary depending on how old the child is and the type of care chosen.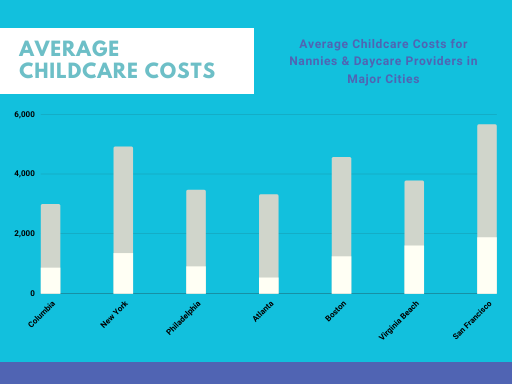 Popular options in the city include La Petite Academy of West Columbia, Turner Child Development Center and St. Michael's and All Angels Early Learning Center. Each facility offers tailored services depending on the child's age, needs and interests.
Columbia Entertainment
The city of Columbia offers several sources of entertainment for families, couples, individuals, and friend groups, all at a lower price than in comparable destinations. A trip to the South Carolina State Museum costs $8.95 for an adult ticket, $6.95 for a child ticket, and $7.95 for a senior ticket.
Columbia has a minor league baseball team called the Fireflies, and attending a game can cost as little as $13 per person, but sports fans can pay more if they want better seats. The average price for tickets is $26 each.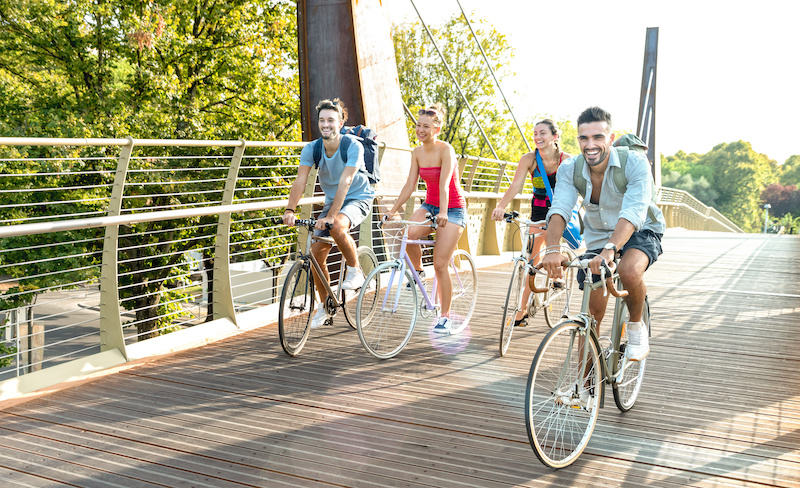 Frankie's Fun Park is an indoor-outdoor entertainment center with attractions like laser tag, a go-kart course, and mini-golf. Admission to Frankie's is free, but the larger attractions will cost money. For example, laser tag is $8, and mini-golf is $10.
For those who like getting in touch with nature, there are a number of parks in the area. Dreher Island State Park costs just $2 for adults, $1.25 for seniors, and kids 15 years and under are free. For an added fee, visitors can even camp at the park or use one of the villas on the park grounds.
Salary in Columbia
With a diverse economy, the job market in Columbia is trending positively. The average salary in the city is $54,331 per year. Depending on the employee's line of work, salaries can be as low as $31,000 a year or reach heights of $122,000 a year.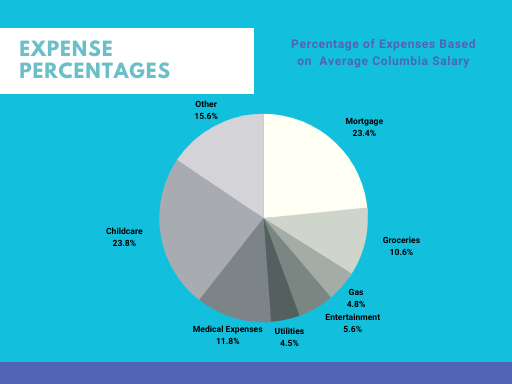 The most prominent employers in Columbia are the University of South Carolina, BlueCross BlueShield of South Carolina, and the State of South Carolina. Other employers include PricewaterhouseCoopers and Health Care Richland. Several companies' headquarters are also located in Columbia: Colonial Life & Accident Insurance Company, the Ritedose Corporation, AgFirst Farm Credit Bank, and numerous law firms can be found within the city.
The most commonly occupied positions in Columbia, SC are office jobs such as Operations Manager, Administrative Assistant, or Project Manager. There is also a significant amount of Office Manager or Human Resources positions in the city. Depending on the rank of the job, employees can expect to earn from $32,000 as an administrative assistant, $64,000 as a civil engineer, or $71,000 as a project manager. In the past year, Columbia's wages have increased about 1.5%.
Additional Considerations About Columbia
Columbia is an ideal destination for relocating families, couples, or individuals. With a lower-than-average cost of living and annually increasing wages, Columbia residents enjoy a high standard of living with convenient proximity to nature and city life. Parks, beaches, and nearby mountains offer Columbia residents a chance to appreciate the great outdoors alongside the convenience of city life. Current residents attest to the city's ease of navigation.
With plenty of public transportation options available, getting around the city is easy. And with lower car insurance and gas prices, those who use a car can also reap the advantages Columbia provides. This city is an ideal choice for those seeking affordable and spacious housing. Families will be able to take advantage of the city's reduced housing prices in comparison to other American cities. Abundant food options can be found in this city, with lots of well-rated grocery stores and restaurants centrally located. For a dynamic destination with endless opportunities, Columbia is an excellent choice.