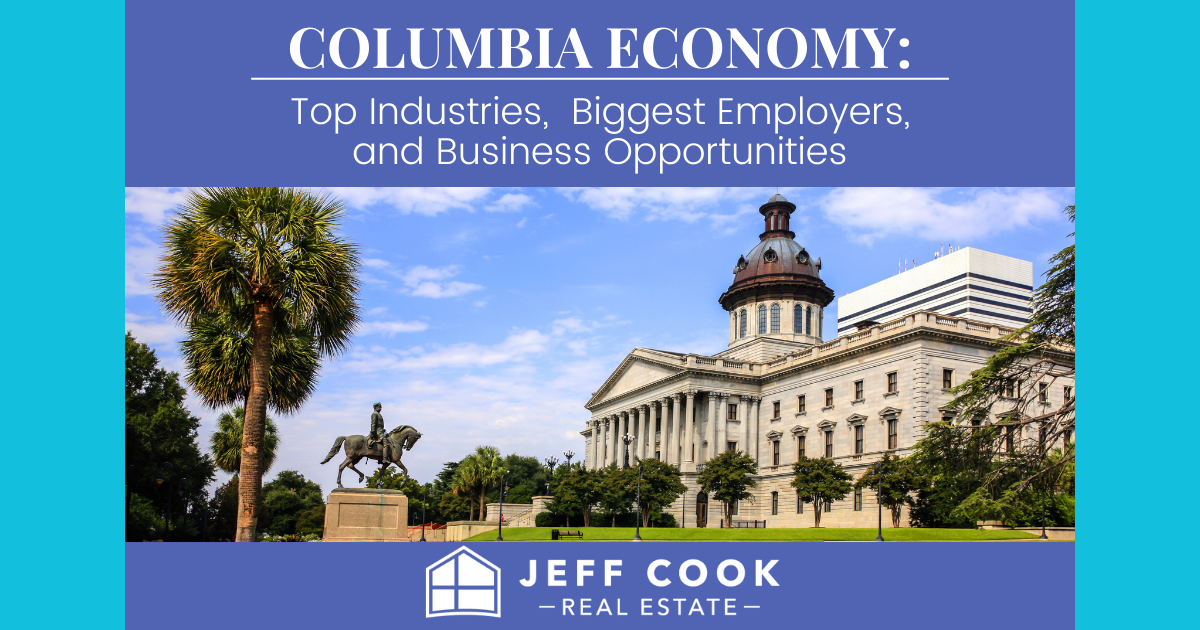 Columbia Economy: Top Industries, Biggest Employers, & Business Opportunities
When people start thinking about moving to a city, they often begin by doing research into various factors they can expect as a part of their lives there. This includes an examination of the local economy. Before people can look for jobs in an area like Columbia, South Carolina, they need to know which jobs are most in demand, which industries are prominent, and what they can expect to pay for expenses like housing. With this information, people will understand many of the features of Columbia's economy, as well as how it compares to the rest of the United States.
Columbia Industries
The city of Columbia features a variety of industries that are common to many medium-sized metropolitan areas. These include manufacturing, healthcare, agriculture, research, and transportation.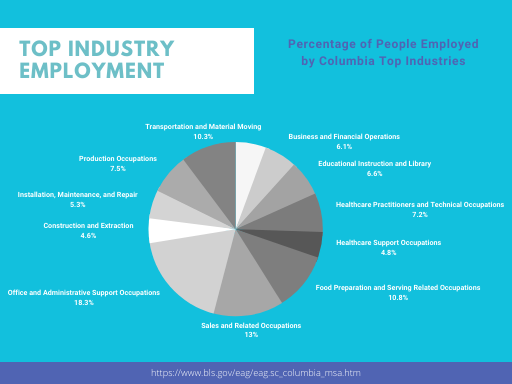 Columbia is best-known for manufacturing, which is a major aspect of its history. Early in the 20th century, post-reconstruction Columbia renewed itself as a site of textile manufacturing. The production of clothing and other textiles required open space for factories, as well as an easy route to generate or import raw materials. In the 21st century, Columbia has maintained its status as a manufacturing-focused city. These days, the production of advanced components to meet the needs of a modern age take precedence. This includes materials and finished products for industries like automobiles, aerospace, and engineering.
Columbia is also known for its role in agribusiness for the region. The moderate climate of South Carolina makes it easier for farmers to produce food throughout the year. Columbia's strategic position, which is partly inland but connected by rivers, made transportation practical in the early years prior to the invention of the railroad. At present, a significant portion of the city's population produce, package, or transport much of the food supplied to the rest of the state.
Experts say that the reason Columbia is one of the most prominent cities for manufacturing, materials, and transport is its location. More than 100 miles from Charleston on the U.S. eastern coast, Columbia is distinctly inland. However, it is connected by the Congaree River. Columbia's position in the midlands of South Carolina but accessible by river made it a powerful inland port. From this spot, Columbia can produce materials and goods to be shipped further inland or to the coast for transport by boat.
Top Industries in Columbia
Advanced manufacturing
Healthcare
Insurance information and technology
Green energy production
Transportation and logistics
Research, development, and discovery
Columbia's Top Employers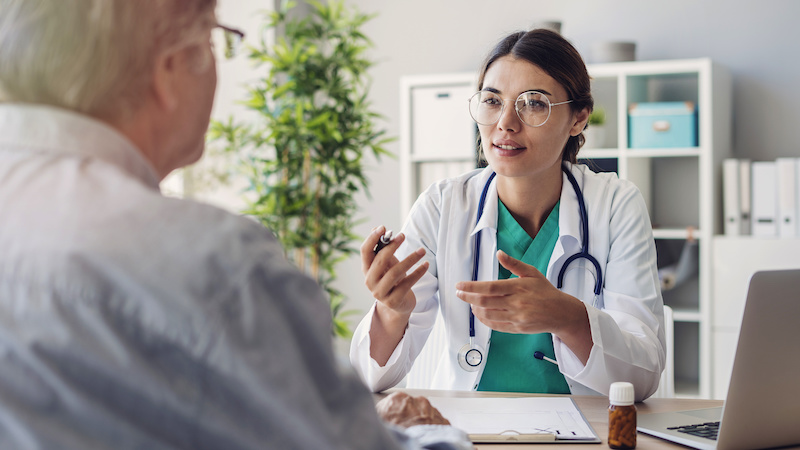 Although Columbia's industries focus largely on manufacturing, the top employers may seem more conventional. The organizations providing the most jobs for the city include:
State government
Healthcare providers, such as Prisma Health or BlueCross BlueShield of South Carolina
Public schools
Universities, notably the University of South Carolina
United States Army
Utilities like South Carolina Electric & Gasoline
Services like United Parcel Service (UPS)
The state government employs upwards of 25,000 people every year. Richland County and the City of Columbia employ about 2,400 people each.
Besides government, healthcare is the industry with the largest employers. For example, Prisma Health is a nonprofit health organization featuring more than a dozen hospitals and 15,000 employees. This organization came to be in 2017, with the merging of Palmetto Health in Columbia and Greenville Health System. As an auxiliary service in healthcare, BlueCross BlueShield of South Carolina provides health insurance options to people who live in the state. It also employs nearly 7,000 people in Columbia.
Columbia is home to Fort Jackson, the largest center for basic training in the U.S. Army. The military installation employs more than 5,000 people and provides training for nearly 50,000 new recruits.
The University of South Carolina opened its doors more than 200 years ago and employees almost 6,000 people. Today, the campus maintains several locations throughout the city.
Additional Large Companies in Columbia
Seibels
Carolina First Mortgage
Richland County School District Two
Nelson Mullins Riley & Scarborough
Colonial Life & Accident Insurance
Technetics Group
South Carolina Department of Transportation
Columbia Economy Facts and Figures
The city of Columbia maintains a population of nearly 150,000 people, housed within about 50 square miles. In the metropolitan area, which includes nearby cities in Richland and Lexington counties, the population is more than 800,000. This makes Columbia a relatively small metro area, connected to Charleston, which has a similar population.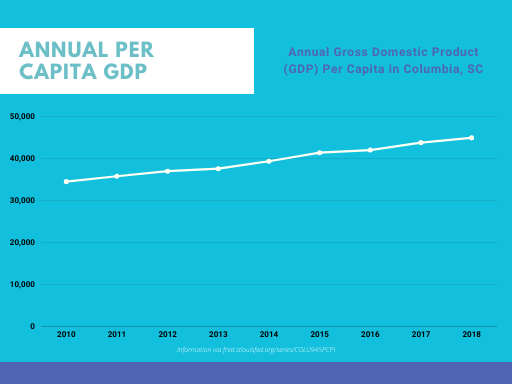 Columbia enjoys very low unemployment figures. At present, those rates typically run less than 4 percent. Job growth throughout the city tracks with the rest of the country. Future growth of certain industries is anticipated to rise far ahead of the national average, particularly in fields like manufacturing and healthcare. This means that people interested in these careers may find a higher number of jobs to choose from.
Columbia has a lower cost of living compared to the rest of the country. For certain things like housing, it also has a lower cost of living than other parts of South Carolina. Average income in Columbia is nearly $25,000 per year, which is just $4,000 less than the national average. Incomes tend to be higher in the metropolitan area than in the city proper. As such, the median household income is around $42,000, compared to the nation's median of $53,000.
Columbia features lower prices on homes and rentals. For example, the median home price in Columbia is about $180,000, which is much lower than the current national average of $315,000. Rent averages about $1,100 for an apartment of around 1,000 square feet, compared to the national average of $1,500.
Researching the various details of the local economy is a good first step in determining if a particular location will be right for a person. However, this is just one piece of the puzzle. People should be prepared to evaluate their options and compare it to other parts of the state, as well as the nation as a whole. This depends on a person's skills and interests, as well as local industries. By taking these economic aspects of Columbia, South Carolina, into consideration, people can evaluate if the city or the metropolitan area would be a good candidate for relocation.