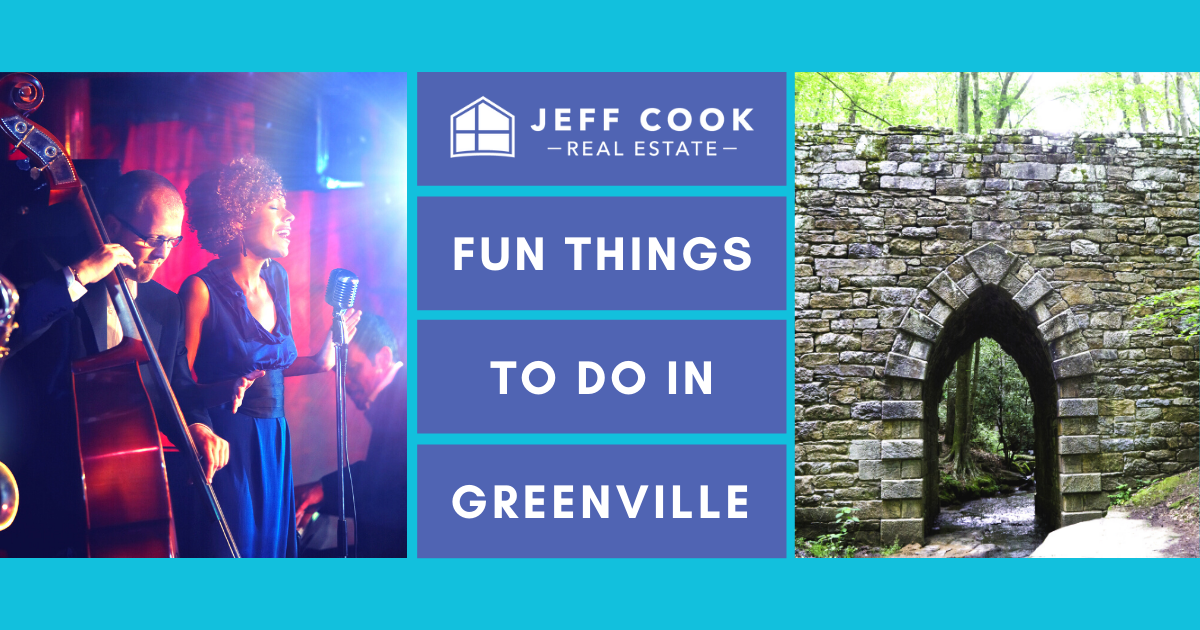 Things to Do in Greenville: Greenville, SC Places to Go and Things to Do
Greenville is a South Carolina city of about 70,635 people. It is part of the Greenville-Anderson-Mauldin metro statistical area, the largest metro area in South Carolina, with a population of about 920,477. Greenville is located inland, about an equal distance between Charlotte and Atlanta. The city is set at the foothills of the Blue Ridge Mountains.
Greenville offers residents and visitors an array of indoor and outdoor activities and attractions. Its theaters and venues host major concerts, and the city regularly welcomes touring theater companies.
Greenville has been named as one of the top 100 small art towns in America. Current residents and those planning a move to the city also find Greenville appealing for its parks, natural beauty, and festivals. The following guide explores the many things to do in and around Greenville, South Carolina.
Greenville Outdoor Adventures
While Greenville has four distinct seasons, winter is typically short and mild. The city's favorable climate has residents enjoying outdoor activities year-round.
The area's city and state parks, as well as its trails, lakes, and waterways, provide not only scenic beauty but opportunities for camping, exploring, and water recreation.
Parks
Parks in Greenville
Falls Park
Cleveland Park
Legacy Park
McPherson Park
Conestee Park
Timmons Park
The Greenville area is home to several state parks within an hour's drive from the city. Among them is Paris Mountain State Park, located less than 15 minutes from downtown Greenville. The park includes four lakes, including a swimming area, as well as 15 miles of trails.
Other state parks in the area include Jones Gap State Park, Caesar's Head State Park, Table Rock State Park, and Devil's Fork State Park. Hiking trails, breathtaking waterfalls, scenic rivers, and lakes, and wildlife are among their many features.
Greenville also operates an extensive system of 39 city parks, covering more than 700 acres. Among them is the award-winning downtown Falls Park on the Reedy, featuring the Liberty Bridge. The popular 122-acre Cleveland Park, considered the city's main park, is home to a zoo.
Water Recreation
Lakes in Greenville
Saluda Lak
Lake Conestee
Lake Placid
Collins Pond
From boating to kayaking to fishing, Greenville's lakes and waterways provide both exciting and relaxing opportunities for outdoor pursuits.
Area rivers offer opportunities for floating along the currents on a tube. Visitors to Lake Jocassee can enjoy its scenic beauty, including Lake Jocassee Gorges, by boat or kayak.
Several of the area's parks feature natural or artificial lakes that offer recreational activities like kayaking, canoeing, boating, and tubing. Some parks even have onsite rentals. For those looking for some heart-racing watersports, there's water rafting on the area's Nantahala River.
In addition to natural water recreation, the city operates three waterparks: 7th Inning Splash Waterpark, Discovery Island Waterpark, and Otter Creek Waterpark.
Hiking & Biking Trails
Trails in Greenville
Swamp Rabbit Trail
Fernwood Nature Trail
Reedy River Falls Loop
McPherson Park Walk
Greenville visitors and residents alike can enjoy the outdoors by walking, hiking, or biking some of its many trails featuring a variety of terrains.
The Prisma Health Swamp Rabbit Trail is a 22-mile system. The multi-use trail continues to expand throughout the county and is suitable for any non-motorized recreation.
Paved and mulched trails can be found in several of the city's parks, including North Main, McPherson, Gower, and Holmes. Additionally, Cleveland Park includes a 16-station fitness trail linked to a paved hiking path.
For those seeking more of a challenge, the city has several local hiking and mountain bike trails catering to various skill levels. The Troop 19 Trail follows a 1.25-mile winding trail through the wooded portion of the Greenville Zoo.
With an extensive city park system, augmented by the region's many state parks, Greenville serves up plenty of outdoor recreation opportunities. Area rivers and lakes are perfect destinations for those hoping to drop a kayak or canoe in the water.
Adventure seekers won't be disappointed by the chance to go mountain biking, hike up to a summit, or enjoy the thrills of whitewater rafting. Those who prefer tamer waters can quench their thirst for excitement at one of the city's three waterparks.
Shopping Centers in Greenville
Haywood Mall
The Shops at Greenridge
Magnolia Park
McAlister Square
Tree-lined, walkable streets mark Greenville's revitalized downtown. The retail area features over 100 unique shops and boutiques. Among them are Mast General Store, a favorite of tourists due largely to its nostalgia factor. The store offers casual clothing and shoes, old-fashioned candy, and knick-knacks, as well as outdoor gear perfect for hitting the area's trails and waterways.
Another downtown favorite is O.P. Taylor's Toy Store, a throwback to low-tech days with toys geared to spark imaginative play.
Other downtown shops include Samantha Grace, Splash on Main, Ayers Leather Shop, Beija-Flor Jeans, Lynn Strong Fine Art Jewelry, and Augusta Twenty.
Shoppers desiring national big-brand shopping will likely find Greenville's Haywood Mall to their liking. Anchored with Dillard's, J.C. Penney, Sears, Belk, and Macy's, the indoor mall features 120 stores, restaurants, and boutiques.
The Shops at Greenridge is an open-air shopping center with more than 45 shops and restaurants, as well as entertainment.
Greenville Restaurants
Restaurants in Greenville
Sassafras Southern Bistro
Saskatoon Steaks, Fish, and Wild Game
Soby's
Trappe Door
Larkin's
Kitchen Sync
Featured in Forbes magazine and on The Food Network for its uncommon dining options, Greenville's local cuisine has not gone unnoticed. The city's southern charm is evident, but its emerging restaurant scene is also fueled by a farm-to-table mindset.
Oak Hill Café is situated on 2.4 acres and includes a restaurant, organic farm, and market. The café puts its emphasis on vegetable-based fare and uses locally sourced ingredients.
Seafood lovers won't be disappointed with the Saltwater Kitchen, a restaurant inspired by Lowcountry cuisine. The establishment is known for its raw oyster bar offerings and Maine lobster with crab stuffing.
For those craving Italian, the family-owned Luna Rosa provides contemporary Italian fare and homemade gelato. The patio seating is popular when the weather allows.
Known for its colorful garden mural on the side of its building, it's hard to miss The Anchorage. The restaurant is located on the city's west side.
Arts & Culture in Greenville
Greenville has many museums, art galleries, and dance and theater performances for all to enjoy throughout the year.
Museums
Museums in Greenville
Upcountry History Museum
The Children's Museum of the Upstate
Roper Mountain Science Center
From music to the military, from baseball to BMWs, Greenville's long list of museums offers up a unique glimpse of history and culture.
The Children's Museum of the Upstate lays claim to being the 10th-largest children's museum in the world and the seventh-largest in the U.S. It features 18 unique exhibit galleries, two outdoor interactive spaces, and a traveling exhibit hall.
The Upcountry History Museum is focused on preserving the history of Upcountry South Carolina, providing education and historical programs throughout the year.
The Signal Music Museum will strike a key with many. It is home to more than 40 English, European, and American pianos and harpsichords dating from 1570 to 1845.
The Greenville County Museum of Art is recognized as one of the region's premier American art museums, drawing visitors from around the world.
Art Galleries
Art Galleries in Greenville
Artists Guild Gallery of Greenville
Art and Light Gallery
Mary Praytor Gallery
Greenville is dotted with art galleries throughout the city, but perhaps no area has a greater concentration of visual and cultural art than the city's downtown arts district.
Located in the heart of Greenville on Main Street, the Artists Guild Gallery is the city's oldest cooperative art gallery. The 2,000-square-foot space represents more than 20 local award-winning artists and features a variety of media.
Art Crossing at RiverPlace is a gallery of about 20 artists who gather and create in studios converted from parking garages.
The SE Center for Photography highlights local, national, and international photographers' photographic works exhibiting a range of skills.
Dance & Theater
Performing Arts in Greenville
Peace Center
Greenville Theatre
South Carolina Children's Theatre
Greenville not only makes a point to showcase local talent, but it has also been successful in hosting internationally known touring troupes. From ballet to music to comedy, the city's emphasis on the performing arts is evident.
Centre Stage focuses on local professional performing artists, whether through musicals, comedies, dramas, or concerts.
The Peace Center is downtown and has presented many of the world's top performers. Additionally, it is home to five resident companies, including the South Carolina Children's Theatre, International Ballet, Carolina Ballet Theatre, Greenville Symphony, and Greenville Chorale.
The Carolina Ballet Theatre is the region's resident professional ballet company and offers performances ranging from classical to contemporary dance.
The Greenville Symphony Orchestra presents performances as well as educational outreach. The orchestra's program includes everything from classical to pop.
Greenville is known for its dedication to the arts. In addition to resident performers, the arts community includes venues for live theater and comedy. There are also programs in place to promote artists and the arts.
Greenville Nightlife
Nightlife in Greenville
Blu Nightclub
Acuarius Nightlcub
Blind Horse Saloon
On the Roxx
Blues Boulevard Jazz
Reys
Whether someone's idea of nightlife is dancing the night away or simply enjoying a cocktail surrounded by smooth jazz, Greenville has plenty to offer.
The Blues Boulevard Jazz is a recently remodeled venue featuring local and nationally known blues and jazz performers and an array of specialty drinks and appetizers.
As one might guess, Jack n' Diane's Dueling Piano Bar features pianists battling it out on the ivories. The interactive experience draws performers from all over. There are drink specials and even room to move to the music.
Those looking for some laughs can check out the Alchemy Comedy Theatre, which features standup, improv, and sketch performances.
Country music fans might enjoy a night out at The Blind Horse Saloon, which touts itself as the best country nightclub in all of Upstate South Carolina. Since 1995, the venue has hosted major concerts for country artists. It also features a dance floor and an award-winning house band.
Those looking for a large-scale performance or maybe just something a bit out of the ordinary can check out upcoming events at the Bon Secours Wellness Arena, which hosts everything from Broadway shows and game shows to internationally known performers and sporting events.
Discover Something New in Greenville Today
Once a city driven by the textile trade, the fabric of Greenville is woven by diverse threads. Its tree-lined Main Street with its wide, welcoming sidewalks is at the heart of the city's revitalized downtown. Visual and performing arts, restaurants, and retail have thrived in the new and unique environment that now forms the city's hub. No matter where in Greenville you live, whether in a townhouse or a luxury home, you'll be able to find something wonderful nearby.
The surrounding natural beauty also draws residents and visitors to outdoor pursuits like boating, biking, hiking, and exploring. Its extensive system of city parks assures residents experience needed green space while also enjoying time on the field or court.