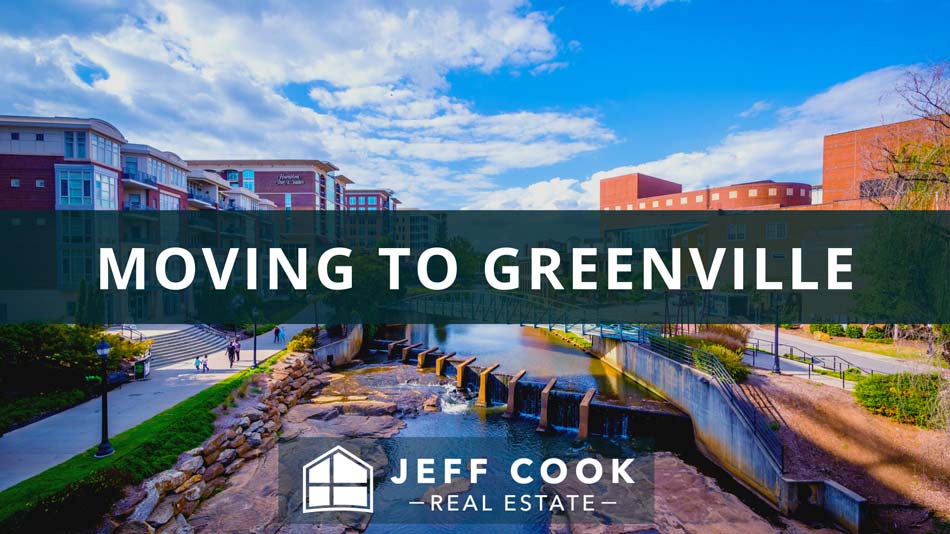 Moving to Greenville: Greenville, SC Relocation & Homebuyer Guide
Greenville is a blossoming city in upstate South Carolina. This small-town-turned-big-city is quickly becoming the model for other areas in the United States trying to attract new residents. From the bustling downtown, effective traffic patterns, and amount of affordable housing, Greenville offers something for everyone. People of all sorts can all be found enjoying the city's many free weekly events in downtown and dining out at the area's many restaurants. The arts are given high importance in the city, and visitors are even encouraged to complete a scavenger hunt to find all of the art installations downtown. With views of the Appalachians and a waterfall flowing in the center of downtown, Greenville is an exceptional place to live.
Cost of Living in Greenville
Residents in Greenville experience a wonderful cost of living index of only 89.8. This means it costs 10.2% less to live in Greenville than other areas in the United States. The reason the cost of living index is so low is due to housing costs. 43% of residents in Greenville own their home, and the median home value is $187,500. Despite the lower median value, the homes in and around Greenville are large. Many feature three or four bedrooms and spacious lots. The average lot size is a quarter acre, but many homes can be found with a half acre or more.
With 57% of residents renting an apartment, condo, or home, rent has become incredibly affordable in Greenville. Residents pay an average of only $937 per month, but the rent largely depends on the size of the space. Studios and one-bedroom apartments run between $623 and $748 per month. Two-bedroom condos cost an average of $860 per month, but units in downtown Greenville can exceed $2,000 or more. Three and four-bedroom homes for rent run an average of $1,150 to $1,378 per month.
Consider additional factors that go into the complete cost of living index:
Residents in Greenville pay higher income taxes than others in the United States. With a rate of 7.0%, residents pay an additional 3% more than the national average. The sales tax in Greenville is only 6%, which is 1.3% less than other areas in the United States.
Salaries in Greenville are slightly higher than the national average. Individuals can expect to make $36,314 a year and households can expect to generate about $48,984 annually. Compared to the rest of the United States an individual's salary is only $31,117 whereas the average household income is $57,652 annually.
Greenville Job Market
Greenville is home to numerous national and international organizations that employ thousands of residents. One of the largest employers in Michelin North America. As the North American headquarters for the brand, over 4,100 residents commute to the office and warehouses daily to aid in manufacturing radial tires.
GE Energy in Greenville employers over 3,400 residents. These individuals aid in the production of wind and gas turbines. The Greenville plant is also home to the most efficient and largest gas turbine in the world.
The Greenville County School District is the one of the largest school districts in the United States. It employs nearly 6,000 teachers across the 82 schools in the district. Over half of the teachers reside in Greenville.
Sealed Air Corporation invented bubble wrap years ago when it built its headquarters in Greenville. However, Sealed Air doesn't just deal in bubble wrap. They are also known for Cryovac, which is commonly seen in food packaging. Today, over 1,400 Greenville residents work at the headquarters.
Popular Industries in the Area
Manufacturing is by far the largest industry in Greenville. The vast land on the outskirts of the city allows for massive warehouses and plants to be developed without disturbing neighbors or traffic. In addition to manufacturing, food production is also a popular industry in the area. Close runner-ups to the top industries include health and education.
Things to Do in Greenville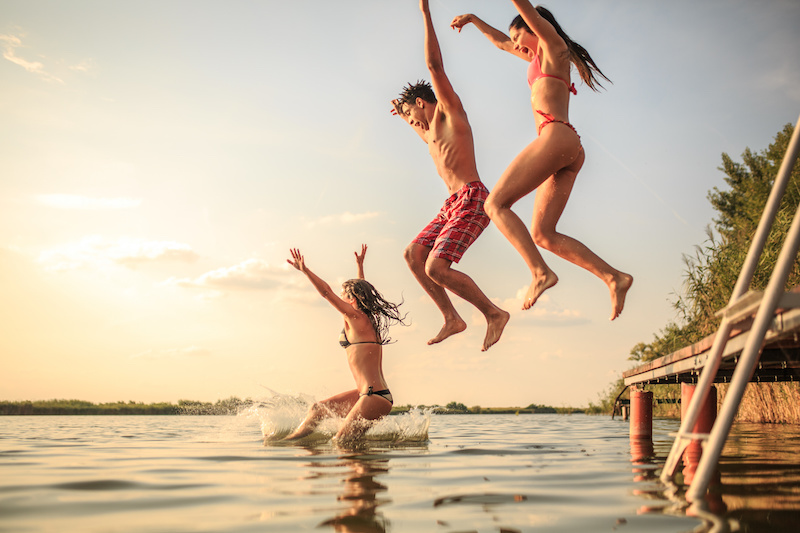 Greenville is home to a number of activities for all ages. Whether families want a stroll through the park, take long bike rides on the Swamp Rabbit Trail, or explore cuisines from around the world, Greenville has it all. Small shops line the streets of downtown in addition to historical information and commissioned art pieces. Visitors and residents alike will always find something new to do with the continuous expansions the city has approved.
Outdoor Activities
Nestled in the Appalachian Mountains, Greenville is perfectly positioned to suit the needs of every adventurer. Hiking, boating, fishing, biking, and more are all easily available within a short drive of the city. The Swamp Rabbit Trail is a bike trail that is already 22 miles long and continues to grow. Waterfalls can be found all around Greenville, and some only take a 30 minute hike to go see.
For a little excitement, the Gorge Zipline Canopy Tour is perfect for adrenaline junkies. This tour contains 11 separate zip lines that span 1.25 miles and 1,100 vertical feet. This activity is suitable for people ages 10 and up, and they also offer special pricing for groups of eight or more people.
Restaurants, Breweries, and Bars
Greenville is loved by many and has cuisines from all over the world available in downtown and the surrounding areas. Whatever price point you are willing to spend, you will find top rated restaurants serving the exact dish you are craving.
Quest Brewing Co. and Yee-Haw Brewing Co. are both located in downtown Greenville. These two breweries share a friendly rivalry in order to earn the support of locals and be deemed the best brewery downtown.
Downtown Greenville does not have a shortage of bars. Whether you are looking for a happy hour or fine spirit, all you need to do is ask a local, or try a fan-favorite like SIP Whiskey & Wine.
Nightlife
Downtown Greenville is known for having events in the early evening on Wednesdays, Thursdays, and the occasional Friday. These events end early enough for families to get home long before children's bedtimes. Those who wish to stay out can keep the fun going at Jack N Diane's Dueling Piano Bar, Blues Boulevard Jazz, Alchemy Comedy Theatre, or any of the numbers of bars and clubs in downtown Greenville.
Greenville Climate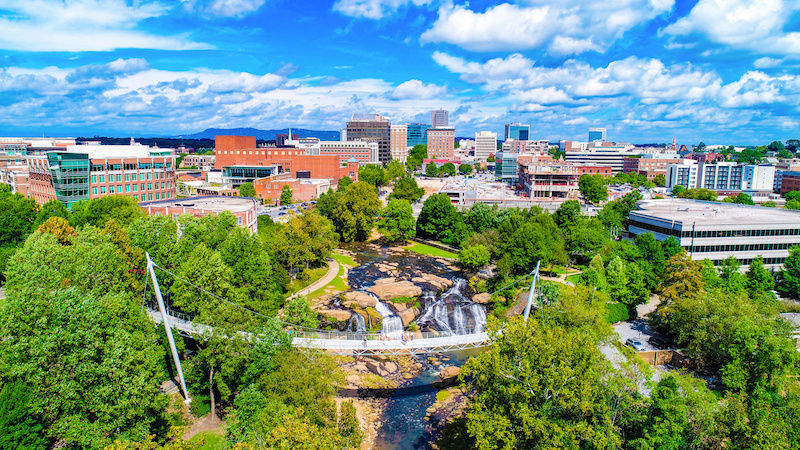 Greenville has earned its title as one of the most comfortable places to live in South Carolina with its comfort index rating of 7.5 out of 10. The area sees all four seasons, which makes it one of the few southern states in the country that can actually see some snow during the holidays and winter season.
Residents enjoy 220 days of sunshine and 105 days of rain or snow during the year. The average snowfall is only three inches, so residents do not need to worry about excessive snow or ice on the roads. Greenville can see upwards of 51 inches of rain during the year, which is about 20 inches more than the rest of the United States.
The most comfortable months are May, September, and October because of the mild temperatures and lack of precipitation. During the summer, residents experience high humidity and high temperatures. Typically, around 40 days exceed 90 degrees during the summer. The winter season does produce cold temperatures, but 57 nights during the year will have temperatures below freezing.
Greenville Traffic
As Greenville began to expand and develop, the city government created a master plan that would ensure residents were not hindered by traffic. This foresight has created manageable traffic in the city. Residents experience only a 17-minute commute each way, which is far less than the 28 minutes the rest of the United States can expect. The grid-like system of roads prevents any backups and allows residents numerous ways to access major highways and interstates.
The city does see slight congestion during the normal morning and evening commute times, but residents are only delayed by up to five minutes. Nearly 80% of residents drive their own vehicles to get around while 20% either take mass transit, ride their bike, or carpool.
Those who wish to travel to nearby areas can quickly do so by taking the surrounding highways and Interstates. Columbia, SC is a short one-and-a-half-hour drive away, while Charlotte, NC is slightly farther and requires a two-hour drive. Those who wish to head to Atlanta for the weekend can head south and arrive in two and a half hours. Farther popular destinations include Chattanooga at four and a hours away heading west and Washington D.C. at seven hours away heading north.
Alternative Routes
The grid system of roads in Greenville creates numerous opportunities to get around the city without much delay. Those who are heading out of the city can avoid congestion due to traffic accidents on interstates by taking highways. The I-385 to I-85 N interchange is popular for those heading north. Residents can save time by taking Highway 29 instead. Those who need to head south toward Anderson, SC can use Highway 20 rather than I-85 S.
Public Transportation in Greenville
Biking is a popular mode of transportation in Greenville. This is largely in part due to the Swamp Rabbit Trail, which extends north and south through the heart of downtown Greenville. The Greenville B-Cycle network offers a number of stations with bikes for rent that can be used anywhere and returned to any station. Users pay by the hour to rent these bikes.
Greenlink is the bus system that runs throughout Greenville and the surrounding areas. The fixed routes offer residents quick and reliable transportation. Residents can purchase an unlimited one-day pass for $5 or pay $1.50 for each ride. A 20-ride pass is available for $26, and a 31 day unlimited ride pass is available for $50. Seniors and those with disabilities are eligible for discounted fares.
Schools in Greenville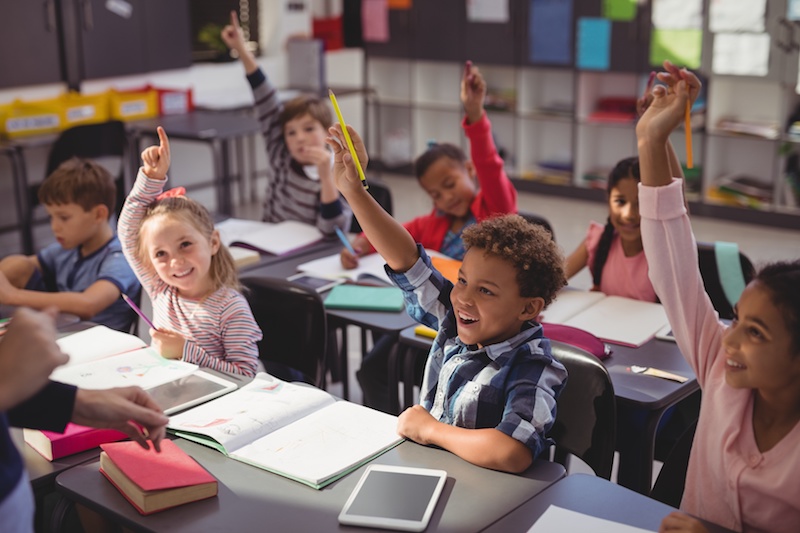 Children in Greenville can be sent to one of two school districts in the city. The Greenville County School District has a number of schools in the heart of Greenville, which makes it convenient for children to get to and from school. The popular schools offer kindergarten through 12th grade education with a 16 to 1 student-teacher ratio. This school district offers AP, IB and Gifted programs to students.
The Spartanburg School District Seven has schools that are just a twenty-minute drive away from Greenville. The district offers an 11 to 1 student-teacher ratio in its schools and provides kindergarten through 12th grade education. The district offers AP and Gifted programs at certain schools.
Why You Should Make Greenville Your New Home
Greenville is continuing to grow rapidly and is always offering new activities, events, restaurants, housing, breweries, and more. With views of the Appalachians and quick access to local waterfalls and lakes, Greenville is a place that anyone can call home. Because of its short work commutes and never-ending list of things to do for entertainment, it's no wonder so many people are moving to this city. If you appreciate the arts, love history, enjoy good food, and want to be outdoors more often, you cannot go wrong moving to Greenville.