Living Room Decorating, Rearranging, and Remodeling Ideas: How to Plan for Your Next Big Project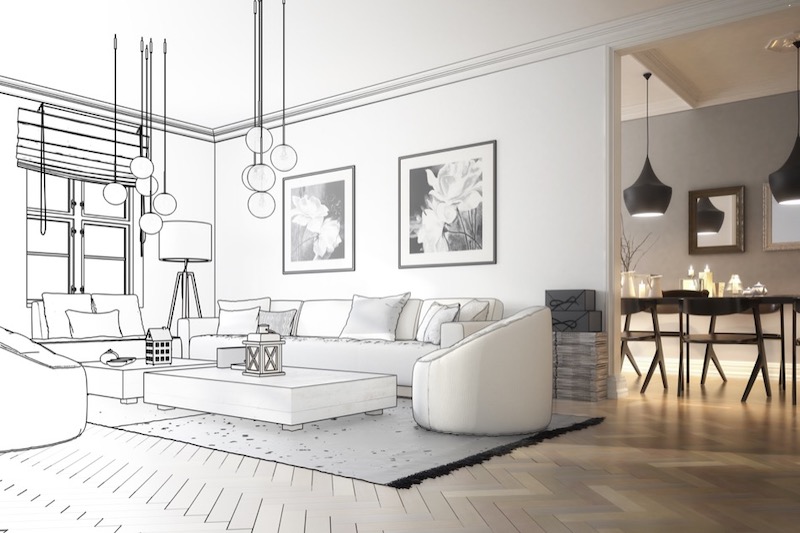 Changing the look or layout of a living room is a common project for homeowners. As a general rule, people may want to consider moving or upgrading furniture and décor at least once every 10 to 15 years. To ensure that the new design will meet requirements and look good, it is wise for people to ensure that every aspect of the design receives proper attention. Advance research and planning is crucial to a good final result for the project. With this checklist, homeowners will have ideas on design elements, décor, flow, and function for their living room.
Starting With a Plan in Mind
For any redesign or redecorating project, homeowners usually get a better result if they start with a detailed plan and budget. It is often tempting to start making purchases or selecting colors before deciding on a theme or floor plans for the room. Unfortunately, making final choices too early in the process may require fixing or replacement in order for the project to work.
Instead, people might prefer to make a list of the activities they want to do in the room. With this information, they can start to research different options for designing the room that will meet those needs. Looking at floor plans for rooms of a similar size or pictures of completed projects can help people identify colors and themes, as well as the type of furniture and other décor they want to have. Once they have these ideas in mind, they can set an affordable budget to help guide their purchases.
Design Elements, Décor, and Focal Points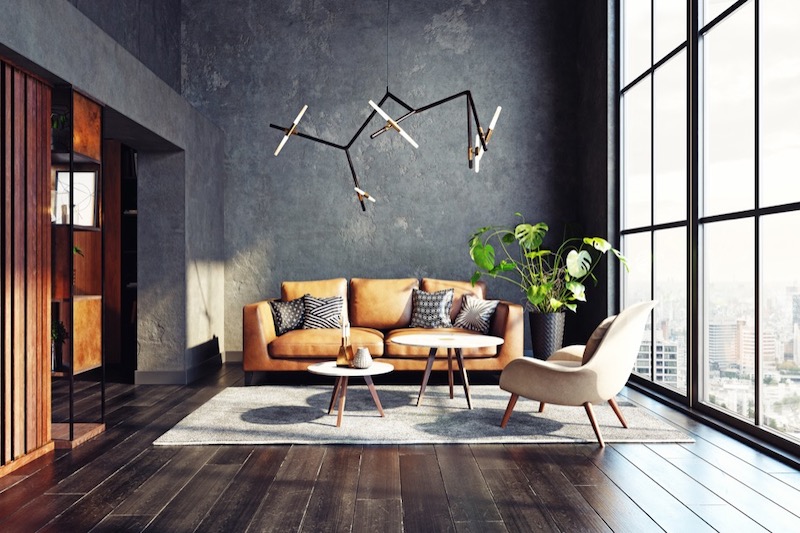 Before homeowners can start to lay out the room and select furniture, they usually determine how they want to design it. Every living room is different, which means the design and focal point will be relatively unique. Practical choices in colors and furnishings will help to emphasize a natural focal point, or redirect to a manufactured one. Common design principles help create the right mood for the space, depending on the ways that people intend to use it.
Creating a Focal Point
For most homeowners, the focal point provides an ideal place to start in designing the room. Many living rooms offer a natural focal point, such as:
Large windows
Fireplaces
Televisions
Large coffee tables
If the room features none of these aspects, then people may need to create one. A striking piece of artwork on the wall or a chandelier hanging from the ceiling are good examples of a manufactured focal point. Even a large wall can become a focal point with the right layout.
Selecting Appropriate Décor
Once homeowners have a general location for the room's focal point, they can start to select décor that will help them draw the eye. The items people select can center the focal point or distract from it.
As a general rule, it makes sense to position the boldest designs and colors near the focal point. Small accents in the same color, for items like couch pillows or light fixtures, create a path toward the focal point. That way, people are less likely to find themselves staring in the wrong direction. Most homeowners prefer a light touch in colors and patterns, to keep the room's feel generally calming.
Using Design Elements
As homeowners start to envision a layout for the room, they may choose to incorporate certain design elements into the scheme. Even if people are not experts in design, they might be familiar with common design principles, such as:
Symmetry: Equal on both sides
Asymmetry: Intentionally askew
Emphasis: Drawing all eyes to the focal point
Scale: Everything fits in the room proportionally
Because homeowners spend the most time in the room, they can determine whether to follow these principles or dismiss them. Doing a little research into the advantages for each makes it easier for them to decide.
Maintaining/Creating Flow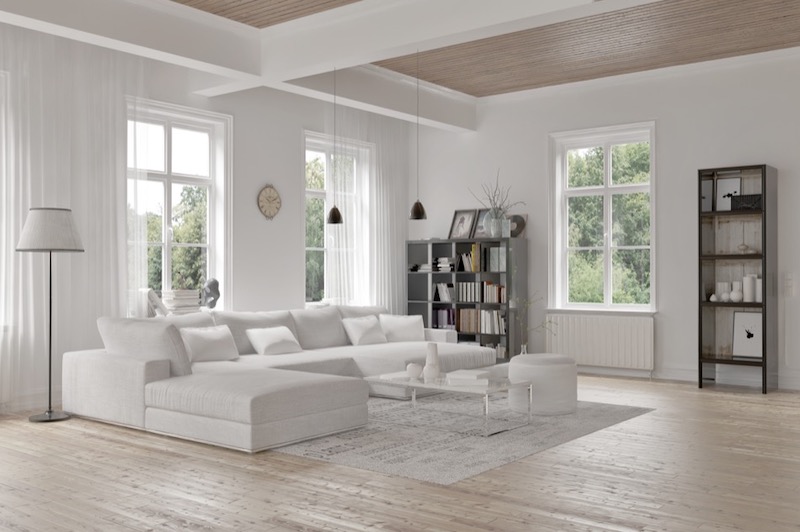 Before homeowners can finalize a layout, they should evaluate the flow of the room. Anyone who has tripped over a coffee table or run into a chair while walking through a room in the dark understands the importance of flow. A room with ideal flow is safer and also more comfortable to use. By considering layout and décor, people can ensure a natural flow for their living rooms.
Identifying Obstacles
One of the best ways to ensure a good flow from one room to the next is to identify common obstacles. If homeowners have the option, they may want to consider walking through the room without furniture. As a general rule, most people will take the most direct path to get from the kitchen to the living room to the rest of the house. Some rooms have more than one path, especially those with exterior doors. If there is a large piece of furniture on that path, people will have to walk around it. As such, the overall design should accommodate each path, for safety and practical use.
Positioning Furniture
To build a room layout with the most natural flow, homeowners can begin by marking out the most common paths. Most people do not need a huge space to walk. Providing about three feet for a walkway will allow people to carry items and avoid tripping or hitting their knees on surrounding furniture.
For seating, people may want to position a chair in the designated spot and consider what they will be able to see from that point. Furniture should be placed out of the way of the flow without putting the focal point out of sight.
Using Common Elements
For an open floor plan or a living room that leads to other rooms, unifying elements can help to preserve the feeling of flow. People often find it jarring to see abrupt transitions in flooring type or color scheme. To help prevent this, homeowners might consider selecting some common elements that blend each room together.
For example, someone with a Mid-Century Modern kitchen design may want to pull colors or fixtures from that design into the living room. Each space does not need the same colors and materials, but just one or two in common. That way, both rooms feel like they belong together.
Functionality
Although most people think of design in terms of the way a room looks, its function is just as important, if not more so. The function of the room will determine how easy it is for the people who live in the house to use it. Homeowners might prefer to start by designating one or two common purposes for the living room.
For example, someone may want to use the living room for entertaining guests and watching television. Large living rooms can have more unique uses than this, but it depends on the layout. By emphasizing function for these purposes, the room layout will be more practical long-term.
Making Space in Small Living Rooms
Homeowners who have a small living room may need to think carefully before they select furniture to fill it. For example, a large sectional could take up most of the wall space and make the room seem crowded. Conversely, a small living room with nearly no furniture offers open space but few ways to use it. People may want to consider these tips when creating a design:
Select furniture proportional to the room.
Avoid lining the walls with furniture.
Use the walls and ceiling for storage and additional décor.
Ensure adequate space for flow.
If the room is particularly small, people might choose lighter colors and set the focal point higher on the wall. This creates a feeling of height to balance out the limited floor space.
Designing Large Living Rooms
Although a large, generous living room may make homeowners feel like they can do anything they like, these spaces also need effective design.
Large living rooms often end up trying to meet too many needs in the home or too few. In either of these cases, people may want to break up the room into unique stations for activities. If the room has a natural path that cuts across the center, this could provide a natural dividing line for each purpose.
A homeowner might choose to select smaller furniture ideal for chatting with a visiting friend. For the rest of the room, they could place a large sectional in the middle to create space for family relaxation and entertainment. People should also remember the needs of all who are likely to use the room. Small children may appreciate a designated corner of the room with toy storage and small furniture that they can use for crafts, reading books, or playing games.
Putting It All Together
Putting all of these elements together can often reveal benefits or problems that homeowners did not anticipate in the design stages. It is not uncommon for people to complete the layout of the room, only to discover that they need to adjust something. This process is important because nobody wants to end up with a room that they cannot use due to a minor flaw in design or layout. Investing the time to test out options when possible makes it easier for people to avoid an unpleasant result.
Evaluating Choices
It is tempting for homeowners to let emotion or creativity take over their ability to evaluate each choice. However, people will be better served if they take time to research and consider each decision before they finalize it. For example, someone may want to use augmented reality software to test out paint colors before applying it to the walls. This will help them determine if the paint will be too light or dark. Similarly, homeowners might need to test out furniture in person or create a mock-up design of the room to get a feel for how it will affect the flow.
Making Adjustments
When homeowners make a bold change in living room design, it is likely that they will need to make adjustments over time. In most cases, a design could be tweaked slightly to improve flow or function without having to scrap it and start over. For example, someone may complete a living room layout only to realize that they have forgotten to include sufficient storage. In this case, it might not be too difficult to add shelves or swap out a coffee table for an ottoman with built-in storage to provide a seamless solution. With a slight change, the room remains functional without replacing its design.
Getting a Helping Hand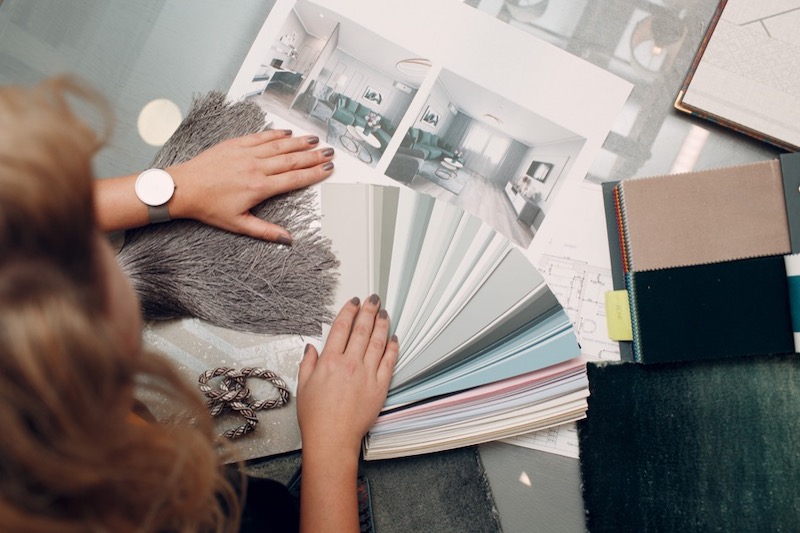 Although redecorating a living room can certainly be a DIY project, homeowners could benefit from getting a second opinion on their ideas. Hiring a professional interior designer can be a great way for homeowners to take a lot of the guesswork out of the design, flow, and function of the room. A designer may be an important choice for people who are considering improvements that require changing the walls or windows. Designers often work with architects and contractors, which can be an added advantage for people who plan to hire these professionals for the project.
Otherwise, homeowners can bring in a trusted friend or family member to provide an outsider's perspective. Someone who is not as familiar with the design and who does not spend as much time in the space may have a unique viewpoint. They might also be able to identify common problems without letting design preferences cloud their recommendations. Homeowners maintain control over the final decisions, but they can use this input as a check against future disappointment.
Rearranging a living room is an excellent project for homeowners and can be done on virtually any budget. It is often a delight to get creative in a space that has lots of potential for improved use. People who spend time coming up with a detailed plan that factors in their expectations for the room and important design principles will usually get the best long-term results. By using this checklist as a guide in planning and execution, homeowners will know which aspects they need to consider before they begin to carry out the project.