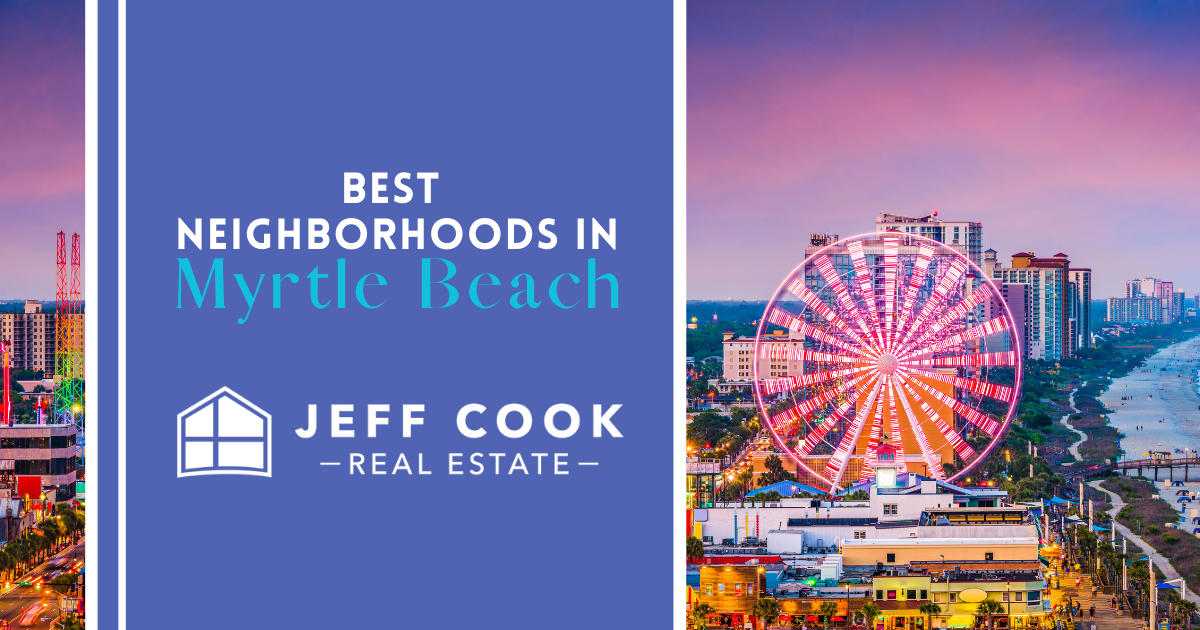 Best Neighborhoods in Myrtle Beach: Myrtle Beach, SC Community Living Guide
Myrtle Beach is a major tourist center, both for South Carolina and the U.S. Its popularity stems in large part from its vast stretch of sandy coastline, as well as its subtropical climate. Visitors to Myrtle Beach are also drawn by its restaurants and shopping. Myrtle Beach is the second-fastest growing metro area in the country, and an increasing number of people are making this tourist center their year-round home by moving to the area.
Myrtle Beach residential areas are dominated by the many successful master-planned communities found in the region, though there are a variety of communities. Some of Myrtle Beach's most popular neighborhoods offer a wealth of resort-like amenities.
Arcadian Shores
Arcadian Shores Amenities
Golf
Outlet mall
Beach
Parks
Restaurants
The private residential community of Arcadian Shores is located in the Arcadian region of Myrtle Beach, just east of Highway 17, with easy access to surrounding communities. This neighborhood is known for its private residential golf course, many amenities, and even a lake for residents and their guests to enjoy.
The neighborhood has much to offer, including ready access to a multitude of cafés and eateries along Restaurant Row. Also nearby is the North Myrtle Beach Park and Sports Complex. The neighborhood is within proximity to Barefoot Landing, an entertainment and retail village surrounding a lake, featuring dining establishments, a movie theater, and other attractions. Not far away are the Tanger Outlets and the Carolina Opry.
The neighborhood is also near several championship golf courses, with Arcadian Shores Golf Club adjacent, and the Grande Dunes, Dunes Golf and Beach Club, and Barefoot Resort and Golf a very short distance away.
Carolina Forest
Carolina Forest Amenities
Outlet mall
Golf
Neighborhood schools
Recreation centers
Community centers
Carolina Forest is a master-planned community featuring a number of residential and commercial developments. It is part of Central Myrtle Beach, a district that is not only home to the city of Myrtle Beach, but is the heart of the region's tourism industry, with hundreds of dining and shopping options, as well as beachfront attractions.
Carolina Forest is located just north of U.S. Hwy 501, between the communities of Myrtle Beach and historic Conway, extending to the Intracoastal Waterway. More than 35,000 residents call the 25-square-mile area home. During development, wildlife and natural foliage were preserved, and the community is much sought-after.
Carolina Forest's growing business district is punctuated by multiple strip malls, featuring local and national retailers. Residents of the community have easy access to shopping, banks, public golf courses, and medical facilities. The neighborhood also has its own K-12 public schools and community recreation centers.
Prestwick
Prestwick Amenities
Golf
Tennis
Beach
Swimming
Camping
Restaurants
Prestwick is located on the border of Myrtle Beach and Surfside Beach. It is a favorite of golfers and tennis players alike.
The community's location offers easy access to surrounding communities, along with a host of restaurants, shopping and entertainment options.
The secure, gated neighborhood is best known for its luxurious championship golf course, featuring gently rolling greens and crystal blue lakes. Prestwick also boats the best tennis facilities in all the Grand Strand region, with two hard courts and 11 clay ones.
Prestwick's Country Club features a pool with private cabanas, as well as the expected pro shop, showers, and locker room facilities. The Club also includes a restaurant with an acclaimed chef, who specializes in Asian cuisine.
Residents hoping to call Prestwick home will find the community divided into four distinct subdivisions: Pipers Glen Condos, Highgrove, Manchester Place, and Wynfield. Residential development includes homes on and off the golf course.
Market Common
Market Common Amenities
Shopping
Recreation center
Library
Parks
Art museum
Years in the making, Market Common sits on the site of the former Myrtle Beach Air Force Base. It is widely recognized as a leading example of a successfully planned community. Market Common features both residential and commercial developments.
Market Common is recognized by tourists and residents alike for its vast array of restaurants, parks, water sports, and shopping. Additionally, residents can enjoy a day spa, movie theater, bowling, and year-round neighborhood events. Prospective residents will find a wide variety of architectural styles.
With a nod to the area's past, a few of the original buildings from the base are still in use today. What was once the officer's club is now the Elizabeth Mattocks Chapin Public Library. The base's rec center has been repurposed as the General Robert H. Reed Recreation Center, serving as a community social venue.
Prince Creek
Prince Creek Amenities
Golf -Tournament Players Course
Shopping
Healthcare facilities
Swimming
Golf cart community
Located just four miles from the Atlantic coastline, Prince Creek is a much sought-after master-planned community in the historic village of Murrells Inlet. It offers residents a number of amenities, including golf, walking trails, shopping, and swimming. The community's greenspaces with lush foliage and wildlife, as well as its peaceful streets, add to its appeal.
The community includes about 2,800 acres around the edges of South Carolina's only Tournament Players Course golf course. Five other popular golf courses are located nearby.
Residents will find many necessities within the community itself, including supermarkets, healthcare facilities, and several restaurants, adding to Prince Creek's appeal as a self-contained community. Additionally, Prince Creek is located in proximity to Huntington Beach State Park and the popular Murrells Inlet Marshwalk, assuring outdoor enthusiasts plenty to enjoy.
Grande Dunes
Grande Dunes Amenities
Golf course
Marina Park event venue
Marina
Tennis club
Clubhouse
Those looking to live year-round in a resort-like community that takes advantage of its coastal setting may find that Grande Dunes fits the bill. The community is located on both sides of the Intracoastal Waterway, stretching all the way to the Atlantic, with Water Tower Road and Grissom Parkway bordering its sides.
This expansive community encompasses a spacious 2,200 acres. It offers a 126-slip marina as well as two golf courses, its own YMCA, tennis courts, and a number of other recreational opportunities and amenities.
Still under development, Grande Dunes comprises three distinct villages—Marina Village, Golf Village, and Ocean Village—and each has a number of neighborhoods. Grande Dunes will include about 5,000 homes at a variety of price points. Residents can take part in a number of organized activities, including sports, fitness, arts and crafts, and social activities, among others.
Settling Down in Myrtle Beach
Long stretches of sandy beach, championship golf courses, and a multitude of dining, retail, and entertainment are all reasons why Myrtle Beach has grown to be one of the nation's top tourist destinations.
But these features are also the reasons some pursue the area as their year-round home. Those seeking a coastal lifestyle will find a variety of neighborhoods to choose from, including many master-planned communities offering golf and resort-like living. Water sport enthusiasts can enjoy all the ocean has to offer, as well as the many inland rivers, lakes, and marshes. For others, the unique coastal cuisine, plethora of attractions, and architectural styles will have them calling the area home.