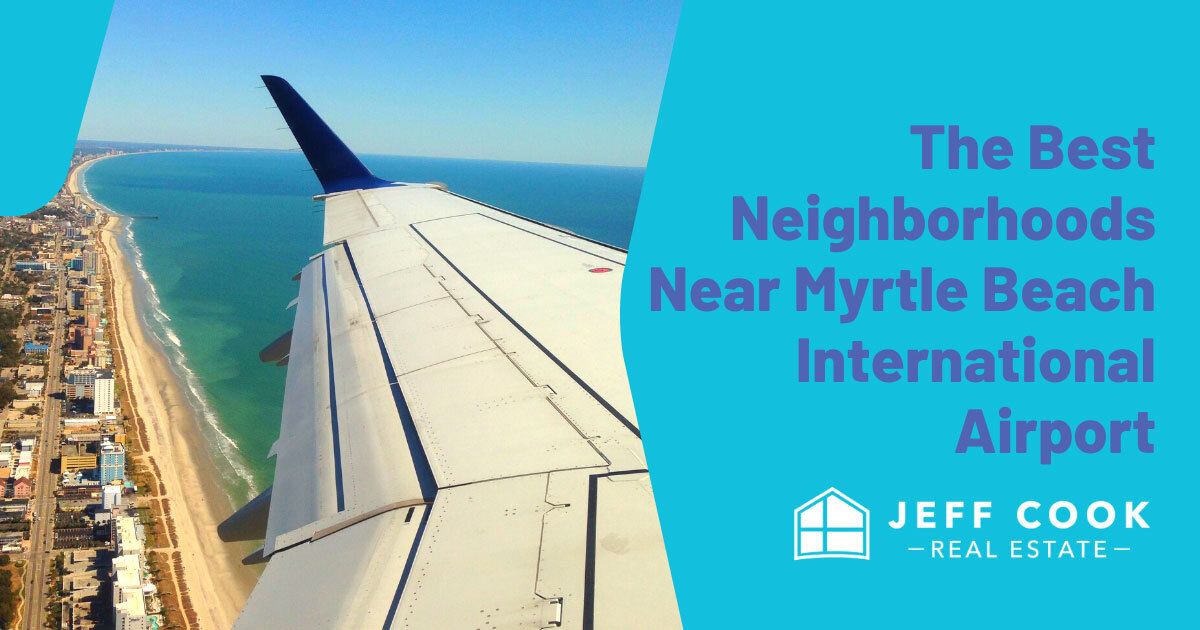 Myrtle Beach, South Carolina, is a well-known vacation destination and is a hub to travel internationally with the Myrtle Beach International Airport. Located on the Atlantic coast, the area is popular for its warm subtropical climate and its many available activities.
If you are thinking of moving to South Carolina and enjoy the area of Myrtle Beach, you may be interested to learn a bit more about some of the best neighborhoods surrounding the airport. Take a look at the six locations below to discover the best neighborhoods near Myrtle Beach International Airport today.
Socastee
Socastee Amenities
Doc Antle's Myrtle Beach Safari
Beach Family Worship Center
Carolina Improv Company
Socastee is located in Horry County, South Carolina. Just west of the Myrtle Beach International Airport, this community is home to a popular swing bridge, the Socastee Swing Bridge. As one of the ten swing bridges in South Carolina, this bridge was built in 1935 and swings regularly. Additionally, Socastee is home to the popular annual Socastee Heritage Festival every April, which draws large crowds.
But the fun of Socastee doesn't stop there. World-renowned wildlife preserve, Doc Antle's Myrtle Beach Safari, is also located in this city.
The housing market in Socastee consists of mostly large single-family neighborhoods as well as multi-family complexes. The expansion of Highway 31 to Highway 544 has recently sparked more development, and waterfront homes with private docks on the Intracoastal Waterway are in high demand for boaters looking for inexpensive real estate.
Forestbrook
Forestbrook Amenities
Arrowhead Country Club
Medieval Times Dinner & Tournament
This Myrtle Beach community is home to Forestbrook Elementary and Forestbrook Middle Schools. Located in southern Horry County, Forestbrook is only 5 miles northwest of Myrtle Beach.
Forestbrook is a good option for people with all budgets and home preferences, as homes range in price, size, and age. Common home amenities include hardwood floors, eat-in kitchens, dining rooms, and covered back porches. Community pools and tennis courts are also available to residents for an extra fee.
Red Hill
Red Hill Amenities
Myrtle Beach National Golf Club
Burning Ridge Gold Club
In south-central Horry County sits Red Hill, bordered to the north by Conway and to the south by Socastee. As of the 2010 census, this area had a population of 13,223.
Red Hill was rated #3 by Niche.com for the best places to buy a house in Myrtle Beach; it comes as no surprise, then, that most residents in this neighborhood own their homes. The median home value is $167,800, and the median rent is $919.
Conway
Conway Amenities
Conway Recreation Center
Conway Marina
Riverfront Park
The Rock Church
Collins Park
Conway is one of the oldest towns in South Carolina and is home to many landmarks and buildings on the National Register of Historic Places. Established as a village named "Kingston" back in 1732, Conway earned its current name in 1883 from the General Assembly. This "river town" has a downtown riverwalk area with many shops and restaurants along the Waccamaw River. It is about 14 miles from the Atlantic Ocean, 15 miles from Myrtle Beach, and covers 22.8 square miles.
It's rated #6 by Niche for the best Myrtle Beach neighborhoods to live in and has a population of 22,661. The median home value is about $148,000, and the median rent is $765.
Since Conway is an older area, it has a mixture of homes old and new. You'll find older, single-family neighborhoods in Downtown Conway, as well as rural countryside on the outskirts of town.
Surfside Beach
Surfside Beach Amenities
Movie Theaters
Public Library
Ripley's Aquarium
Surfside Pier
Adventure Falls Golf
Wild Water & Wheels
Fuller Park
All Children's Park
Waccatee Zoo
Surfside Beach, an area in Horry County nicknamed "The Family Beach," runs along two miles of oceanfront on the Atlantic Ocean. Hotels, condos, houses, restaurants, and more can all be found with oceanfront views, as well as a fishing pier. This area is considered a part of the Grand Strand, an arc of beach land in South Carolina running over 30 miles from Little River to Winyah Bay.
This area strives to keep a "small-town" feel and a quieter environment close to many lively main attractions. Many drive around on golf carts in the neighborhood, and they are permitted within four miles of the resident's address—fitting for the minigolf capital of the world.
The average value of homes here is about $280,000 and has been steadily growing year over year.
Murrells Inlet
Murrells Inlet Amenities
Murrells Inlet Marshwalk
Inlet Sports Lodge
Morse Park Landing
Wachesaw Ball Park
Blue Wave Adventures Dolphin Watch Tour
Lost At Sea Memorial
Sport Fishing
Boat Landing
Located just 10 miles from Myrtle Beach and 13 miles from Myrtle Beach International Airport is Murrells Inlet, a small town in Georgetown County. Nature-lovers really enjoy Murrells Inlet's marshes, oceanfront, boating, fishing, and nearby parks. Known as the "seafood capital of South Carolina," this area has many waterfront dining options with delicious fresh seafood and spectacular ocean views.
In fact, this historic town is said to have been home to the infamous pirate Blackbeard—but it holds much more history than just that. Murrells Inlet has a record of settlement that goes back thousands of years. It was eventually named after Captain John Murrell, who bought 2,340 acres of land in the area.
The current median listing home price is about $250,000, with a median sold price of around $219,000.
Known for its beautiful marshland, the popular Murrells Inlet Marshwalk is a hot spot here. This half-mile stretch of boardwalk overlooking the salt marsh is a popular place for visitors and residents alike to enjoy restaurants, shopping, live music, and more.
Live in a Myrtle Beach Neighbhorhood
With all of the great options near the Myrtle Beach International Airport, you may enjoy living in one of these neighborhoods. With warm weather and proximity to the Atlantic Ocean, one of these coastal suburbs can be a great choice to move to. After reading this list, you can hopefully make an informed decision on which suburb best fits your needs and lifestyle.