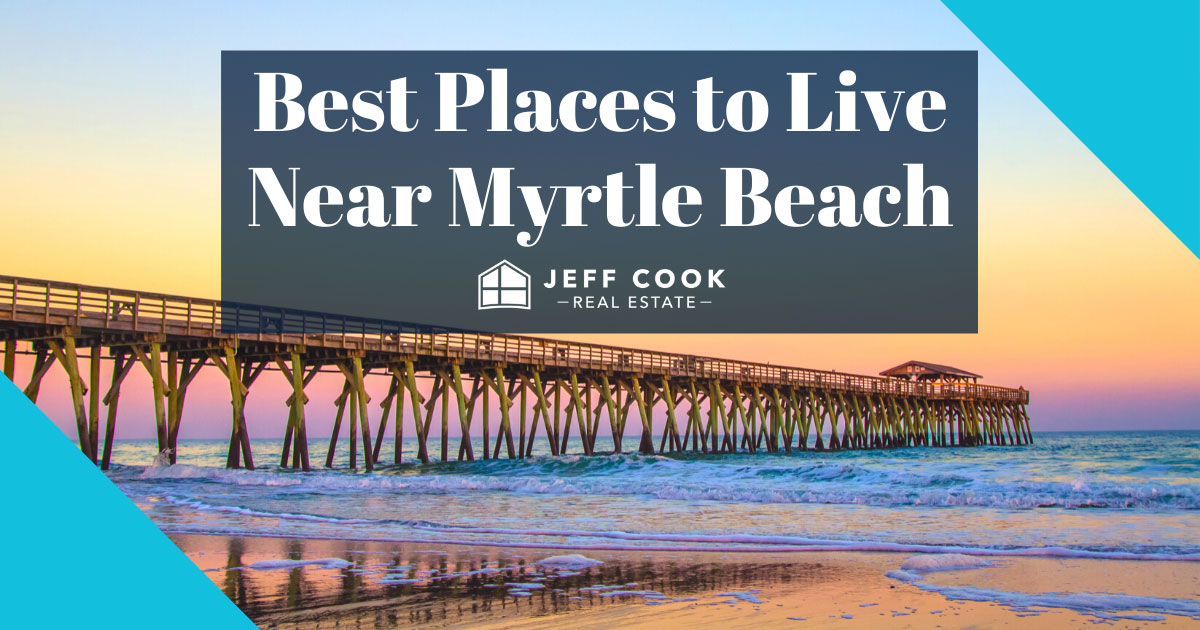 Best Places to Live Near Myrtle Beach: Myrtle Beach, SC Area Town and Myrtle Beach Guide
Myrtle Beach has been a popular vacation destination for years, and has also become a place where people want to put down roots. The city is now the second-fastest growing metropolitan area in the United States. Offering all the beauty and amenities of a world-class vacation destination, Myrtle Beach is an ideal location on the East Coast, lying just about midway between Miami and New York. Potential buyers will also find a wide range of homes to choose from in the Myrtle Beach area—everything from waterfront mansions to golf course villas to high-rise condos throughout the following destinations.
Socastee
Socastee Amenities
Library
Proximity to public schools
Socastee Recreation Park
Socastee is an unincorporated community that sits on the Atlantic Intracoastal Waterway. Located in Horry County, Socastee lies between Route 17 and the Waccamaw National Wildlife Refuge, very close to Myrtle Beach International Airport. One of the first-known mentions of this community dates back to 1711, when it appeared in the will of an early settler named Percival Pawley.
Socastee prospered during the first part of the 1800s from its naval stores industry. Around the turn of the century, though, the need for the naval stores industry slowed, as did Socastee's growth. Fortunately for Socastee, the Myrtle Beach Air Force Base was established here during the 1940s, and the town became a popular bedroom community for soldiers stationed there. Although the base closed in 1994, Socastee continued to flourish, benefiting from its proximity to Myrtle Beach's Grand Strand.
Today, prospective buyers will find a variety of homes in Socastee, from stunning waterfront homes on the Intracoastal Waterway to large multi-family complexes. This suburb also has its own elementary, middle, and high school, in addition to a library and parks. Socastee is home to several important historic and interesting sites, and one of only ten swinging bridges in South Carolina.
Forestbrook
Forestbrook Amenities
Forestbrook Elementary
Forestbrook Middle School
Community pools
Tennis courts
Community garden
Forestbrook is situated just ten miles southeast of Conway—the county seat of Horry County — and five miles northwest of the hustle and bustle of Myrtle Beach. Yet, this neighborhood still enjoys a rural feel.
Forestbrook is made up of a number of neighborhoods, including Forestbrook Preserve, where the majority of the houses were built between 2015 and 2017, and Pinelands Estates, where each home sits on at least one acre of land.
Forestbrook is still growing. In October 2019, the Horry County Planning Commission voted to add a new housing development at the intersection of South Carolina Highway 31 and South Carolina Highway 544. This new development could add more than 600 homes, as well as 200 multi-family units on 266 acres of land. Forestbrook has the potential to become a relatively popular neighborhood of Myrtle Beach.
Forestbrook Hotspots
Forestbrook Shopping
Forestbrook Grocery
Food Lion
Forestbrook Restaurants
Murrells Inlet
Murrells Inlet Amenities
Waccamaw Neck Bikeway
Huntington Beach State Park
Crazy Sister Marina
Brookgreen Gardens
The area on which Murrells Inlet lies has been settled for thousands of years and boasts a rich and colorful history. One of its earliest inhabitants were the Waccamaw people. Later, European settlers and pirates also discovered this area. One of Murrells Inlet's most infamous residents was Blackbeard, who used the historic fishing village as his hideout.
Today, Murrells Inlet is a beautiful seaside community that is perfect for anyone who enjoys having plenty of fun things to do nearby and spending time on the water. Residents can wake up in the morning and decide to go surf fishing or bird watching in Huntington Beach State Park, paddle a kayak through the Salt Marsh, or embark on a deep sea fishing adventure from the Crazy Sister Marina.
Murrells Inlet has a popular half-mile-long boardwalk called MarshWalk. Along this popular walk is live music, waterfront restaurants, and bars. Another popular attraction located in Murrells Inlet is the 300-acre Brookgreen Gardens, the first public sculpture garden in the United States.
Murrells Inlet is located just 10 miles south of Myrtle Beach in Georgetown County. Homes in Murrells Inlet range from waterfront condos in high-rise buildings to large sprawling homes in gated communities.
Murrells Inlet Hotspots
Murrells Inlet Shopping
Murrells Inlet Nightlife
Murrells Inlet Restaurants
Surfside Beach
Surfside Beach Amenities
Six parks
Dog park
Horry County Memorial Library
Pier
36 beach access points
In addition to its two miles of wide, sandy beaches with showers, restrooms, and accessible ramps, Surfside Beach also has six parks, where residents can enjoy playing shuffleboard or tennis, and a well-known pier. On Sundays during summer, musicians play outdoor concerts in one of the town's parks. Surfside Beach also has the Bark Park for pet owners who want to give their canines a bit of unleashed freedom.
Located in Horry County, just south of Myrtle Beach, Surfside Beach is built on land that was once part of the 3,200-acre Ark Plantation. In the early 1900s, the plantation was divided up and developed. For a short time, it was called Roach's Beach, then Floral Beach before its name was finally changed to Surfside Beach. Incorporated in 1964, Surfside Beach is considered part of Myrtle Beach's Grand Strand.
Conway
Conway, which is located just 14 miles northwest of Myrtle Beach, is the picturesque county seat for Horry County. This riverside town is known for its moss-draped live oak trees, which are so special to the citizens of Conway that they are actually protected by an ordinance that was put in place to preserve Conway's "oldest citizens."
Conway has a lovely historic downtown area with unique boutiques, charming eateries, and a wooden path called the Riverwalk, which follows the Waccamaw River. This town also hosts several fun events each year, including a Chocolate Walk and a Christmas Parade.
Founded in 1732, Conway is one of South Carolina's oldest towns. It was originally known as "Kings Town," and then Kingston. The town's name was eventually changed to Conwayborough in honor of General Robert Conway, a general in the South Carolina State Militia and veteran of the American Revolution.
Conway Hotspots
Conway Shopping
Conway Nightlife
Conway Restaurants
Red Hill
Red Hill Amenities
Legends Golf and Resort
Palmetto Bays Elementary School
Waccamaw Elementary School
Burning Ridge Golf Club
Witch Golf Links
Red Hill is located south of Conway and north of Socastee in Horry County. This census-designated place, which is approximately 13 miles from Myrtle Beach, is a golf lover's paradise. It is home to the Burning Ridge Golf Club, the Witch Golf Club, and the Legends Golf Resort, which boasts five championship courses and also has a Scottish pub. Several other courses lie just outside this neighborhood, including The Wizard, the Man O' War courses, and Myrtle Beach National's three courses.
Red Hill is also a great neighborhood for nature lovers. It's bordered on its east by the 29,000-acre Waccamaw National Wildlife Refuge and the 325-acre Cox Ferry Lake Recreation Area, which includes three miles of nature trails and a mountain biking trail. This area is also home to Coastal Carolina University, which has a total enrollment of just over 10,000 students, and to the Conway Medical Center, which has 210 inpatient beds.
A majority of the homes in Red Hill tend to be of modest size, yet prospective buyers will find a variety of house types to choose from—everything from affordable condos and manufactured homes to large, luxury houses located on golf courses.
Red Hill Hotspots
Red Hill Cafés
Red Hill Restaurants
Finding the Right Place to Call Home in Myrtle Beach
The good news is that all of these places in Myrtle Beach have a lot to offer prospective homeowners. Therefore, it's not unusual for a buyer to have a hard time deciding which areas to concentrate their home search. That is when a seasoned and experienced real estate agent can make a difference. They can listen to a buyer's list of desires and show them homes that will most closely match the amenities and features the buyers are looking for in their next community and home.