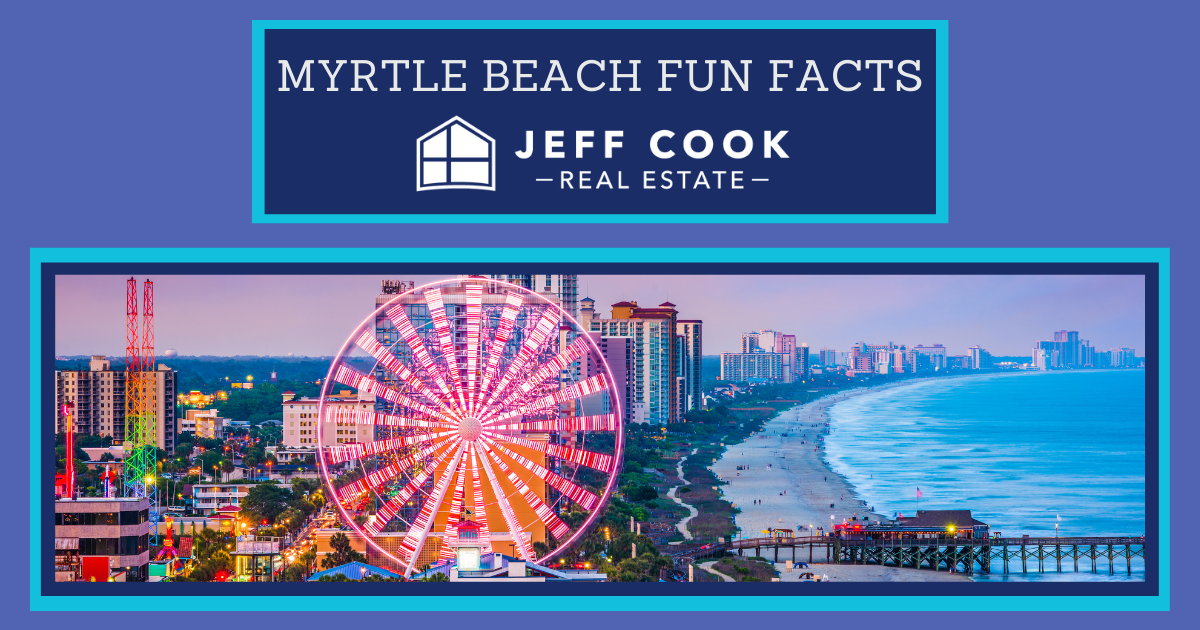 There is a lightheartedness in the air about Myrtle Beach, South Carolina, with its fun bars, miles of beachfront, and wide range of things to do. But what quirks and interesting factoids exist about Myrtle Beach that most people don't know about? It turns out that Myrtle Beach has a rich history that has since given way to a lighthearted modern celebration of the culture behind its "fun" atmosphere. For those interested in learning more about their city or for people planning a move to the area, the following information uncovers fun facts about Myrtle Beach.
The Waccamaw Tribe Was the First Group to Inhabit Myrtle Beach
Documented history of the Waccamaw tribe dates back to the 15th century. It is believed that the Waccamaw tribe was one of the first Native American groups to have contact with Spanish explorers in America. It is not believed that this tribe was large, but its people lived in villages all along the Waccamaw and Pee Dee rivers across both Carolinas.
The little we do know comes from the verbal accounts given to the Spanish court and the observations made by settlers and anthropologists over time. The Waccamaw and Pee Dee rivers are part of the greater Myrtle Beach area, so it is not surprising that this area is widely considered to have been the home base for the Waccamaw people.
Many Famous Movies Have Been Shot in Myrtle Beach
When one considers the ease of travel and the frequency of good weather intrinsic to the area, it should come as no surprise that many famous movies have been filmed in the Myrtle Beach area. Myrtle Beach International Airport makes domestic and international air travel easily accessible, but it is also easy to drive—particularly considering the proximity of cities like Atlanta, Raleigh, Charlotte, and Jacksonville.
Because Myrtle Beach is in South Carolina, it also offers filmmakers several key production incentives. These include an employee wage and supplier rebate, no state sales tax, and no location fee assessed on state property.
At least twenty major films, six television shows, and two music videos have been filmed in Myrtle Beach. As far back as 1924, "Pied Piper Malone" was shot in this city, but major blockbuster hits, including The Notebook (2002), The Patriot (1999), and Magic Mike XXL (2015), have all been filmed here. On the small screen, One Tree Hill and Eastbound & Down rank as among the most popular shows filmed in Myrtle Beach.
Myrtle Beach Is the Mini-Golf Capital of the World
Believe it or not, Myrtle Beach has over fifty mini-golf, putt-putt golf, and adventure golf courses, which means it boasts the greatest number of mini-golf courses per square mile than any other place on earth. In fact, the area is so well-recognized for its mini-golf that it is the home of the U.S. Pro Mini Golf Association Master's National Championship.
The majority of mini-golf courses in Myrtle Beach can be found along the Grand Strand, a stretch of beach that extends over 60 miles in length. There are hotels, resorts, waterfront homes, restaurants, beaches, golf course homes, and other attractions in between the golf courses. This wide length of beach accommodates a wide range of courses, with something for everyone to enjoy.
Myrtle Beach is closely associated with "Blackbeard" (also known as Edward Teach), who achieved great notoriety as a pirate between 1716 and 1718. As a result, there is pirate-themed and shipwreck-themed entertainment abound in the Myrtle Beach area—including its mini-golf courses.
The Myrtle Beach SkyWheel Is One of the Tallest Ferris Wheels in America
The Myrtle Beach SkyWheel was opened on May 20, 2011. At 187 feet in height, it was the second-tallest Ferris wheel in North America, following Dallas' Texas Star. Since its opening, it has become the sixth-tallest Ferris Wheel in the country.
The Myrtle Beach SkyWheel was designed by Ronald Bussnik Professional Rides, a leading designer of Ferris wheels since it opened in 1985. It was designed after the Canadian Niagara SkyWheel and the Seattle Great Wheel, and all are meant to hold up to six people in glass-enclosed, temperature-controlled gondolas. The Myrtle Beach SkyWheel runs year-round, except for Thanksgiving and Christmas Day.
South Carolina can often find itself in the path of high winds, particularly during the hurricane and tropical storm season. As a result, many local establishments have to take precautions to address potential wind-induced damage proactively. In the case of the SkyWheel, each gondola has to be removed—a process that can take anywhere from eight to ten hours.
Myrtle Beach Is the Founding City of the Carolina Shag
Celebrated as the "swing dance of the South," it is widely believed that the Carolina Shag originated near Ocean Drive in Myrtle Beach. It is said to have started back in the 1930s, although it took about ten years for its popularity to grow to the point where it was really an established dance style. The 1989 Bridget Fonda film Shag showcases the Carolina Shag and was filmed in Myrtle Beach.
Lifeguards and waitresses are said to have come up with the Carolina Shag, a dance that matches the type of flirtation on the beach scene. It centers on a six-count, eight-step pattern revolving around having lighthearted fun and bringing people together. Today, people of all ages dance the Carolina Shag, although it has grown in more formal dance appreciation. There are currently national and international dance competitions where participants compete in the Carolina Shag.
Discover Myrtle Beach Today
Myrtle Beach has long been celebrated as a fun beach destination, but its history dates back far. Native Americans settled amidst its rivers, swamps, and beaches hundreds of years ago. The coastline rapidly evolved into the entertainment hot spot that it stands for today.