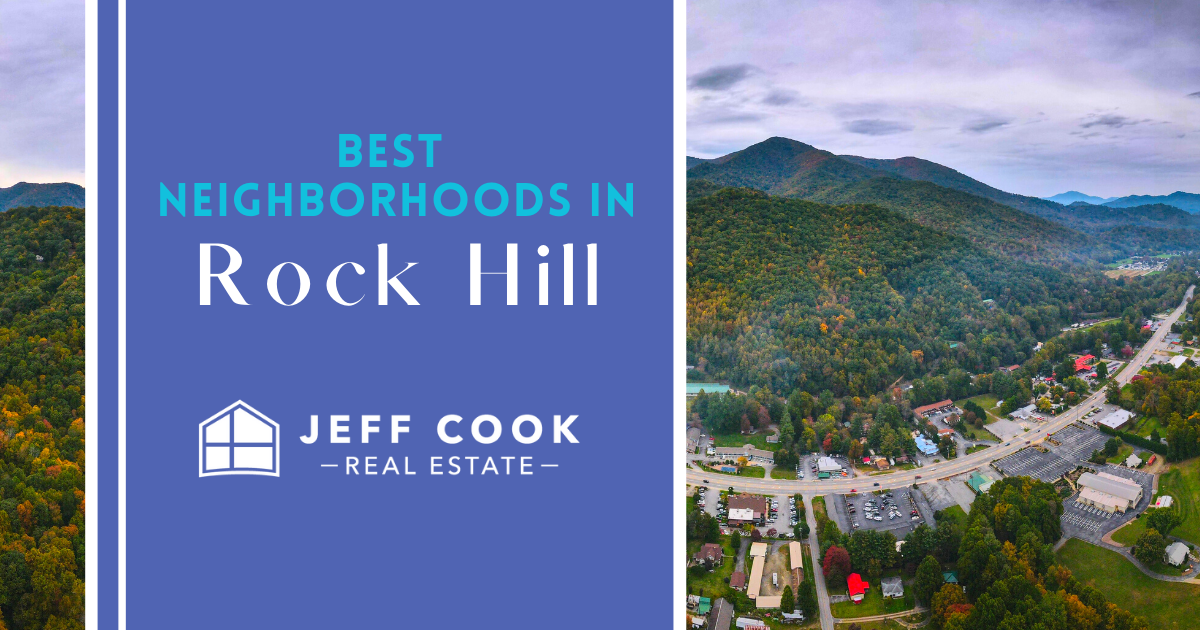 Best Neighborhoods in Rock Hill: Rock Hill, SC Community Living Guide
The city of Rock Hill is located near North Carolina, only about 15 miles from the border. It is the largest city in York County and the fifth-largest in the state, with about 70,764 residents. Rock Hill is considered to be part of the Charlotte-Concord-Gastonia metro.
The city features 31 parks and numerous nature trails. The community is also home to a number of restaurants and shopping options, as well as five museums. Its neighborhoods and nearby suburbs all have their own distinct amenities, with many offering a number of outdoor activities that take advantage of the region's climate.
Fort Mill
Fort Mill Amenities
Parks
Sport fields
Playgrounds
Community center
Historic district
Golf courses
Museums
Fort Mill, also known as Fort Mill Township, is located in York County about eight miles northeast of Rock Hill. About 24,622 residents live in Fort Mill.
The town of Fort Mill was founded in 1873. The community grew rapidly in its early years as textile mills became established. After many of the mills were later shut down, the town continued to grow, primarily due to its prominence as a suburb of Charlotte, located over the North Carolina border, about 20 miles to the north.
Fort Mill has several buildings scattered throughout the city that are listed on the National Register of Historic Places, including the Fort Mill Downtown Historic District.
Fort Mill features three golf courses. It also has six parks, with amenities that include picnic shelters, playgrounds, baseball fields, basketball courts, and a small water park. The town also has a community center, available to rent for special events.
Riverwalk
Riverwalk Amenities
Boutique shopping
Greenspace
Grocery store
Lodging
Pedestrian-friendly district
Cycling-friendly streets
Restaurants
Athletic fields
The Riverwalk neighborhood is a developing 1,008-acre master-planned community within the city of Rock Hill. When fully developed, it will include 850 single-family homes, 250 townhomes, and 550 apartment homes.
Riverwalk is only about a 10-minute drive from the Charlotte metro area. About 66,000 residents are expected to call the Riverwalk community their home.
The neighborhood offers its residents scenic riverfront access along the Catawba River. The 2.5-mile waterfront River District is being developed to include a mix of restaurants, retail, commercial, and entertainment. The area is also home to a world-class cycling velodrome.
Shopping options will include a range of retail, from boutiques to local outfitters. Restaurants are slated to include everything from cozy coffee shops to chic wine bars. The development plans also include a Town Center, with restaurant and retail establishments, as well as plenty of greenspace, and streets that are cycle- and pedestrian-friendly.
Downtown
Downtown Amenities
Arts center
Restaurants
Shopping
Live theater
Nightlife and breweries
Outdoor concerts
Rock Hill's downtown neighborhood is often referred to as Old Town. The Old Town area is typically defined as the heart of Rock Hill, including its historic district, as well as the surrounding area of Winthrop University, the Textile Corridor, and the city's original residential neighborhoods. The historic district consists of 12 adjacent buildings constructed between 1870 and 1931 that have been repurposed.
A vibrant art scene, lively nightlife, unique shopping and dining, along with street festivals and live music have made downtown a popular place. Additionally, historically significant residential neighborhoods often feature restored homes with historic architecture.
A farmers market, food truck Fridays, outdoor summer concerts, yoga in the park, movies in the park, and Old Town Theatre Company are just some of the amenities that local residents enjoy in the downtown area. Downtown is also home to the Center for the Arts and working artist studios, found in the Gettys Arts Center.
Newport
Newport Amenities
Shopping nearby
Restaurants nearby
Nightlife nearby
The community of Newport is a census-designated place in York County, South Carolina. It is about seven miles northwest of Rock Hill. Much of the community has been annexed into Rock Hill, but parts of it remain in the unincorporated portion of York County. About 4,194 residents live in the community. Newport offers convenient access to the Rock Hill York County Airport.
The community covers about nine square miles. Although Newport is home to a Walmart Supercenter, most of the retail, restaurant, and other commercial establishments are found in nearby Rock Hill rather than within the borders of Newport itself. Newport offers convenient access to Rock Hill and the greater number of shopping and dining opportunities of the city.
Laurel Creek
Laurel Creek Amenities
Walking trails
Clubhouse
Swimming pools
Greenspace
Tennis courts
Laurel Creek is a 275-acre residential development on the north side of Rock Hill. When fully developed, the community is expected to include multiple neighborhoods of single-family homes and townhomes. The development will also include recreational and meeting facilities.
The neighborhood's proximity to Interstate Highway 77 provides residents with easy access to Charlotte, the shortest commute time of all Rock Hill neighborhoods.
Residents of Laurel Creek will have many things to do, including access to walking trails, tennis courts, and a swimming pool, while also enjoying plenty of greenspace.
The Village of Blakely is a completed patio home neighborhood within Laurel Creek, consisting of 43 residences. The Village of Augusta Place is a second patio home neighborhood under development.
The Village of Chadbourne and the Village of Bellanova are estate home neighborhoods at Laurel Creek, with 43 and 7 homes, respectively. Additional luxury home developments planned include the Village of Marley, Village of Rittenhouse, Village of Mountain Laurel, Village of Torrington, and Village of Sawgrass.
Meadow Lakes II
Meadow Lakes II Amenities
Swimming pool
Lakes
Tennis courts
Clubhouse
Lakes covering a total of 30 acres are the hallmark of the Meadow Lakes II community, located west and slightly north of Rock Hill. This residential development is within a 10-minute drive to shopping, restaurants, and nightlife.
Residents have access to the development's private pool from 9 a.m. to 9 p.m. daily, Memorial Day through Labor Day weekend. The pool has a lifeguard on duty and can also be reserved for private parties and events.
Meadow Lakes II also offers year-round access to four, full-sized tennis courts, available on a walk-on basis or by reservation.
The community also features five lakes, four of which are owned by the homeowner's association. The lakes are stocked and can be used for fishing or boating. The fifth lake is privately owned by homeowners adjacent to it.
Meadow Lakes II also features a 2,000-square-foot clubhouse, with a capacity of 150 people. The facility is available for weddings, receptions, reunions, and other events.
Discover Rock Hill's Best Neighborhoods
Rock Hill has much to offer residents of its neighborhoods and nearby suburbs. It has become a major sports hub, and its tourism industry is growing in prominence. Offering convenient access to the City of Charlotte, just over the North Carolina border, Rock Hill represents an often-welcome contrast to the hustle and bustle of the larger urban center.
Rock Hill is a college town, home to Winthrop University, located within one of the city's five historic districts. In addition to its retail and restaurant options, the city is known for its many opportunities for outdoor activities, including golf, kayaking, river adventures, and bike trails.