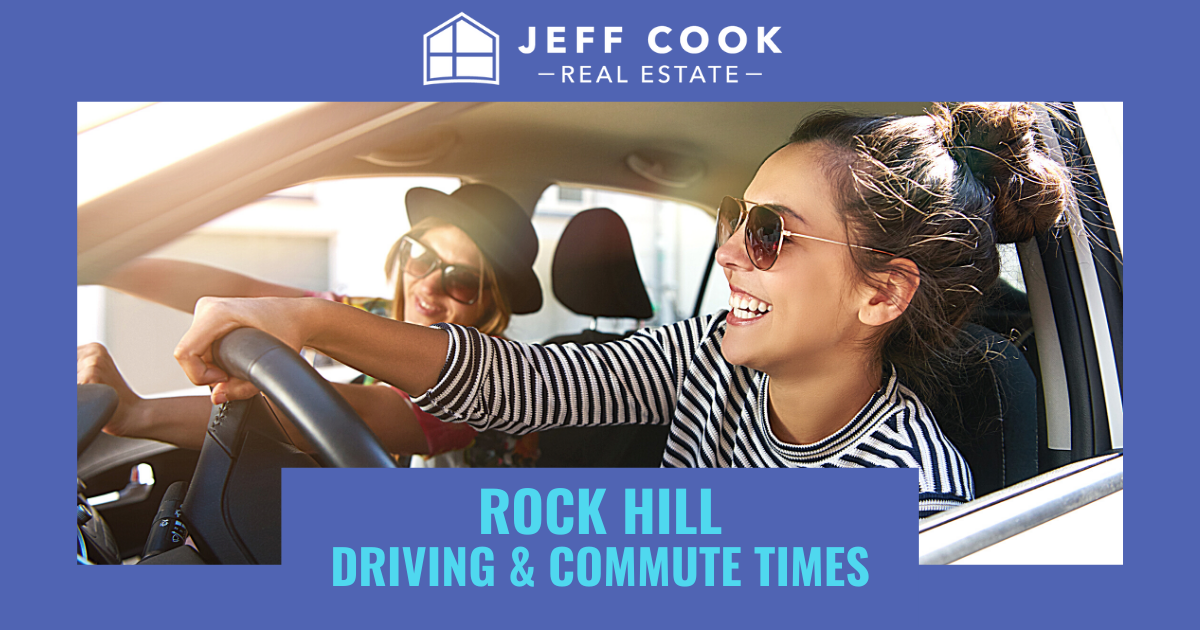 Rock Hill, SC Driving & Commute Times
For those in a new city, getting from point A to point B can be a big challenge. This is particularly true if the area is as densely populated as Rock Hill, South Carolina. It's the fifth-largest city in the state and has over 66,000 residents that call Rock Hill home.
It's important for visitors and new residents to know how to get around Rock Hill. The following information provides details for driving in Rock Hill, SC, including major roads to get familiar with, where to park, and other helpful tips for commuting in the city.
Get to Know Rock Hill's Major Roads
There are three major highways in Rock Hill: Highway 21, Highway 121, and Interstate 77. I-77 travels through Rock Hill, north to Charlotte and south to Columbia. It makes for a quick commute for those who live in Rock Hill and work in either city. Highway 121 travels the southern edge of the city and becomes Highway 21 at the intersection of South Anderson Road before heading southeast and then south to Columbia. It also extends north of Rock Hill, ending just prior to the border between South Carolina and North Carolina.
Other important roads to note are Cherry Road, Highway 161, Ogden Road, and West Main Street. Cherry Road runs Southwest to Northeast through the city, passing Winthrop University and Cherry Park before merging onto Highway 121. Highway 161, also called Celanese Road, intersects with I-77 around the Pecan Grove area. Heading west, 161 will connect with Highway 678 and Bryant Boulevard, which circle the Rock Hill-York County Airport. West Main Street travels southeast through the city, past the Main Street Children's Museum and Fountain Park before intersecting with Highway 121. Ogden Road runs southwest and northeast, also passing the Children's Museum, Glencairn Garden, and Manchester Meadows Park.
What to Expect During Rush Hour in Rock Hill
Rock Hill experiences rush-hour traffic—and traffic in general—like other large cities. Interstate 77 typically stays fairly clear, except for traffic congestion due to road construction or accidents. However, Highway 21 tends to see more traffic jams where the Highway splits off into E Main Street heading west, which shortly thereafter becomes Albright Road. Cowan Road connects E Main Street back to Highway 21 heading north to south and also tends to be quite congested, particularly during rush hour. Highway 159 is a small road that also connects E. Main Street back to Highway 21 and is often similarly congested.
Rock Hill sees the most traffic on major roads on weekdays, between the hours of 7:30 a.m. and 9:00 a.m. and again between 4:30 p.m. and 6:00 p.m. Those traveling during these windows should make sure to allow themselves extra time in case they get stuck in a traffic jam. This is especially true for those commuting to and from work and stand a chance of running late if traffic ends up being heavier than anticipated.
Parking in Rock Hill
Rock Hill has fairly straightforward parking guidelines that are easy for people to follow, depending on where they're headed in the city. There are multiple free and paid parking options downtown, at University Center, and throughout the area.
At University Center, free on-street parking is available in 15-minute express zones. Paid on-street parking is available at $2 for the first hour, $1 an hour for the second and third hours, and $4 per hour starting at hour four. Fees are capped at $48 per day maximum, and no overnight parking is available on-street. Off-street parking is free for the first 90 minutes, $1 for the next 30 minutes, $1 per hour starting at hour three. The daily maximum is $5, and there are also no off-street overnight parking options at University Center.
Other parking structures include:
Black Street Deck, Free, located at 121 E. Black St.
Elizabeth Lane Deck, Free, located at 116 N. Elizabeth Lane
Parking lots in Rock Hill include:
Black Street Free Parking Lot
Hampton Street Free Parking Lot
White Street Free Parking Lots (North, South, and Middle)
First Presbyterian Free Parking Lot
City Hall Free Parking Lot
Library Free Parking Lot
Other Helpful Things to Know About Driving in Rock Hill
Like other states, South Carolina takes driving safety seriously. When people use Rock Hill's roads, they agree to abide by certain laws and guidelines to make travel through the city safer for everyone.
Texting and driving was made illegal in South Carolina in 2014, the laws against which reside in Section 56-5-3890, Chapter 5, Title 56 of South Carolina's Code of Laws. The law states, "It is unlawful for a person to use a wireless electronic communication device to compose, send, or read a text-based communication while operating a motor vehicle on the public streets and highways of this State." However, hands-free wireless devices are permitted.
It's also important for people to avoid violating traffic laws in Rock Hill. South Carolina uses a point-based penalty system for traffic infractions, meaning that each infraction carries a certain number of points. If someone exceeds a certain number of points within a certain timeframe, their driver's license is suspended. Points are calculated at half value 12 months after the infraction, and drop from one's record after 24 months. Even for out-of-state visitors, these violations will transfer to the driving record they have within their own state.
Get Comfortable Driving in Rock Hill
While it may be challenging to navigate a new area at first, especially with busy roads and traffic jams, over time, people will become more comfortable with the layout of the roads and highways in Rock Hill. Those new to driving in a large city can take classes at one of Rock Hill's many driving schools. Additionally, people should avoid distracted driving in any form. Until drivers become more familiar with the roads, they should consider using a GPS to get from one place to another.