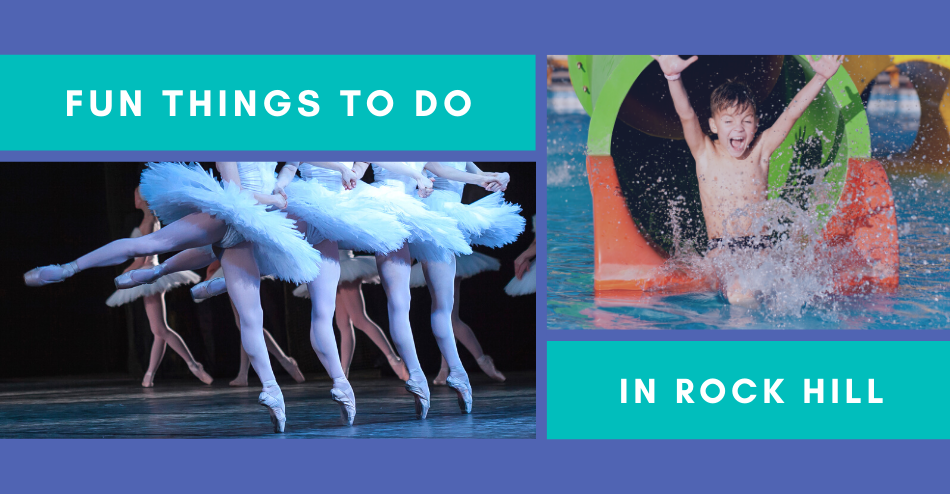 Best Things to Do in Rock Hill: Rock Hill, SC Outdoor Activities & Recreation Guide
When it comes to things to do in the area, Rock Hill, South Carolina, delivers. As the largest city in all of York County and also the only major city in South Carolina that is right on the outskirts of Charlotte, North Carolina, Rock Hill continues to blossom and provide its 67,000+ residents with their own big city amenities while adding new things to do. The following information details the fun adventures that people can have while creating lifelong memories in Rock Hill.
Rock Hill Outdoor Adventures
Rock Hill offers residents a number of outdoor adventures that can be enjoyed throughout the year. Warm summers and moderate winters make it easy and enjoyable to get outdoors. With summer highs of only 87° F and winter lows in the high 50s, residents of Rock Hill can enjoy outdoor adventures every season of the year.
Parks
Rock Hill Parks
Cherry Park
River Park
Manchester Meadows Park
Fewell Park Center
Spencer Park
Fountain Park
Hargett Park
Glencairn Garden
The park closest to the downtown area in Rock Hill is Spencer Park. Offering residents year-round access to basketball courts and a playground, Spencer Park went one step further and built an off-leash dog park for the area's four-legged friends to enjoy with their owners in 2014.
Started in 1928, one family's back yard garden has become one of Rock Hill's best destinations. The Glencairn Garden offers over 11 acres of beautifully maintained walkways and landscapes that can be enjoyed throughout the year. Known for the dogwoods, azaleas, camellias, and wisterias, the Glencairn Garden is best visited when the gardens are in full bloom during the spring in late March/early April. One of the best things about the garden is the free admission to enjoy a simple stroll.
Water Recreation
Rock Hill Water Recreation
SouthTown Wake Park
Carolina Harbor
Mirror Lake
Winthrop Lake
Lake Haigler
Manchester Creek
Big Dutchman Creek
Those seeking an exciting day on the water do not need to look any further than SouthTown Wake Park. The entire aqua park is dedicated to wakeboarding, but it also offers lounge chairs, paddleboards, and kayaks for visitors who are not quite ready to dive into the adrenaline-pumping sport. Unlike traditional wakeboarding that requires the rider to be pulled by boat, SouthTown Wake Park built a cable ski system that pulls the rider via an overhead cable. It allows more visitors to try out the sport while family and friends relax and enjoy watching from the shore.
The Tega Cay Marina on Lake Wylie is the perfect way for residents to enjoy a relaxing day on the water. The marina offers over 200 boat slips that can be rented year-round in addition to 24 ports for jet ski storage. Before heading out on the water, the marina operates as a one-stop shop for fuel, snacks, soda, ice, and drinks. Those who do not have a boat for their day on the water can rent a pontoon boat for a full day or a half day.
Hiking & Biking Trails
Hiking Trails in Rock Hill
Waterford Golf Course Trailhead
Piedmont Medical Center Trail
Carnegie Walking Trail
South Pointe Walking Trail
Rawlinson Road Walking Trail
Saluda Trail Walking Trail
Manchester Creek Trails
Paddock Parkway Trail
Rock Hill offers over 34 miles of combined walking, running, and biking trails in the area that are open to the public. River Park has over 3.5 miles of wooded walking trails that allow residents to get back to nature without leaving the city's amenities behind. Manchester Meadows offers trails throughout the park that are connected by a 1.1-mile paved outer loop. The Piedmont Medical Center Trail is incredibly popular in the summer because it offers 3.5 miles of shaded cover on its paved route near the Catawba River.
Those who prefer biking to walking or running can visit the Rock Hill Outdoor Center for miles of road, track, and trails built specifically for bikes. Mountain bikers can visit the Mountain Bike Course on Herrons Ferry Road and enjoy over seven miles of blue and black level trails. Additionally, those interested in BMX can enjoy the Rock Hill BMX Supercross Track year-round.
Rock Hill truly has something for everyone to enjoy outdoors. Whether looking for a nice area to walk around throughout the year or seeking adrenaline-packed adventure, Rock Hill has outdoor activities that keep residents coming back for more.
Shopping Centers in Rock Hill
Rock Hill Galleria
Shoppes at River's Edge
The Mercantile
The Commons at Winthrop
Rock Hill Plaza
Milwood
The Market
Northwoods Square
Three major areas offer the best shopping for residents and visitors in Rock Hill. The Rock Hill Galleria is the area's largest mall. With over 40 stores, every visitor to the Galleria can find what they are looking for that day. The mall offers a healthy blend of big box stores, national brands, and local boutiques to choose from while shopping. The Galleria even offers annual events and parades during the holidays.
The Shoppes At River's Edge offers shoppers over 10,000 square feet to browse and look at the area's best furniture and home decor. Couches, pottery, wall art, South Carolina gifts, and so much more line the floors. Shoppers can easily spend more than two hours looking at all the Shoppes' offerings.
Those who want to shop from local vendors can end their search with The Mercantile. Branded as the area's best Indie store, The Mercantile is a 5,000-square-foot shop that hosts special events, pop-ups, workshops, and local art. Additionally, the store offers a Flower Bar and Zero Waste bar for customers to explore, inquire, and learn.
Rock Hill Restaurants
Restaurants in Rock Hill
The Dixie Pig
Legal Remedy Brewing
Rock Hill Pump House
The Flipside Restaurant
NC Noodle Bar
El Molcajete Restaurante
Grumpy Brothers Grill
Burgers & Barley
Rock Hill is home to a number of highly rated restaurants. The Dixie Pig offers the area's best barbecue and southern hospitality. Whatever kind of meat or sides you are looking for, you will find at The Dixie Pig.
When a lawyer, two bankers, a computer guy, and a landscape architect got together in 2015, they created Legal Remedy Brewing. They grow their own ingredients for their beer and locally source all the ingredients used in dishes at the Jailbird Food Truck, Cantina, and Old Town location.
The Rock Hill Pump House was an actual pump house until the owners renovated it into a casual riverfront dining restaurant. Serving a seasonal menu with locally sourced ingredients, residents never know what delicious creation they will be served next. The Rock Hill Pump House was also voted as one of the most scenic restaurants in America!
Arts & Culture in Rock Hill
The arts and culture scene in Rock Hill has run deep in the community since the early 1980s. Residents have had the opportunity to enjoy local talent for decades and learn about what has helped Rock Hill grow into the area that it is today.
Museums
Museums in Rock Hill
Museum of York County
Comporium Telephone Museum
Main Street Children's Museum
Rock Hill Fire Department Headquarters & Museum
Historic Rock Hill
The Museum of York County is located in Rock Hill. It offers a number of areas for visitors to explore, including the Naturalist Center, Settlemyre Planetarium, and Tot Town. Over 2,000 specimens have been preserved and placed on display at the museum. Visitors enjoy state-of-the-art technology to help paint a better picture of the history of the world and learn more about the universe.
Those who only have an hour to spare can squeeze an entire visit in at the Comporium Telephone Museum, which reviews the entire history of communication and is free for all to attend. There is even enough time in the 60-minute segment to learn about the local history of Rock Hill.
The Main Street Children's Museum is the perfect activity to keep children six years of age or younger entertained and learning all day. The museum offers creative, development play that creates memories for a lifetime. The artwork featured at the museum was created by American illustrator and Rock Hill native Vernon Grant.
Dance & Theater
Theaters in Rock Hill
Rock Hill Theatre
Johnson Theatre
Old Town Amphitheater
Fort Mill Community Playhouse
All dance and theater available in Rock Hill is performed by groups of all ages. The Rock Hill Theatre came into fruition during the 1995 merger of the Rock Hill Little Theatre, York County Children's Theatre, Main Street Theatre, and The Outcasts. Today, the Rock Hill Theatre performs in whatever buildings are open and available for their performances.
While the area does not have major art shows or large, professional performances, Rock Hill still provides residents with an arts and culture scene. One can argue it may even be better than what someone can find in other cities because the scene truly displays the collective thoughts and ideas of Rock Hill's residents.
Rock Hill Nightlife
Clubs, Bars, and Music in Rock Hill
Patti's BackStage
Player 1 Up
The Hide-A-Way
Hartland's Bar
Towne Tavern at Rock Hill
The Brass Tap
The Pump House
Jokers Club
A number of bars are open late in Rock Hill, which makes them popular nightlife options. However, there are two specific venues that are built for nightlife available to residents in Rock Hill who are 21+. Patti's BackStage is a karaoke bar that offers singing and dancing five nights a week, where visitors can belt to their favorite tunes. Thursdays are specifically catered to stand-up nights, where anyone in the community can try out their comedy routine.
Player 1 Up is an adult arcade and bar, where residents can have fun playing classic arcade games. Most games are free to play, and there is also a full bar and kitchen that serves up exactly what people want after a fun night out with friends.
There's Something for Everyone in Rock Hill
Rock Hill has made sure to keep fun and adventure at the heart and center of its expansion. From outdoor activities to shopping, dining, culture, and nightlife, Rock Hill has something for everyone to enjoy.